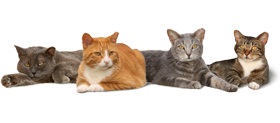 From the Editor

---

Getting to No-Kill by Changing Our Approach to Community Cats

It's hard to imagine a more stressful environment than a shelter for a feral cat. Noise, crowding, exposure to illness, feeling trapped, and the tragedy of shelter policies that often have no options for fearful, unsocial, shy, and defensive cats other than death. In fact, Alley Cat Allies reports that 7 out of every 10 cats brought into a shelter does not leave alive.

But new developments in shelter medicine, new animal control policies for community cats, and above all, a new way of thinking about the issue can change all that.

To help foster that new way of thinking, Maddie's InstituteSM presented a webcast on community cats with Dr. Julie Levy, director of Maddie's® Shelter Medicine Program at the University of Florida earlier this year. The response from the audience was overwhelming, not only in the form of appreciation for the information provided by Dr. Levy, but with requests for even more information, resources, tips, and tools to help feral and free-roaming cats in their communities.

In this issue, we have brought together as many of those requested resources as possible, adding detail to the programs and policies outlined in Dr. Levy's presentation, and expanding our focus to include reflections on the past, present, and future of community cat advocacy.

We spoke to a leading shelter director on how her view of the issue has changed over time. We examined a successful program in Florida, and how it got that way. We asked a leading shelter veterinarian to outline a model high volume, high quality spay/neuter program. We brought together the nation's top animal welfare advocates to share their secrets for working with government officials, the media, and community members. And we asked Maddie's Fund® President, Rich Avanzino, to share his vision for a new approach to community cats.

We offer these resources to everyone involved in community cat advocacy as a tribute to the spirit of one small dog, Maddie, whose unconditional love and greatness of spirit inspired the founders of Maddie's Fund to pledge their resources to help save the lives of the nation's homeless dogs and cats.

Sincerely,
The Maddie's Institute Team

 

Featured Video

It's time to change the way we think about community cats and shelters, says Maddie's Fund President, Rich Avanzino.

Poll

Does your shelter take in healthy feral/community cats?

Find Us On

Did You Know?

What are the best practices for spaying and neutering community cats? What common mistakes need to be avoided in doing high volume spay/neuter on this population? How can you make your existing program safer and more efficient? Get the inside story from Dr. Kathleen Makolinski, founder of Feral Cat FOCUS, a community advocacy group for free-roaming cats, and Operation PETS, a stationary spay/neuter clinic in Western New York.

 
 
 

 

Community Cats: A Shelter Director's Evolution

Once upon a time, Barbara Carr believed feral cats lived short, miserable lives, and the kindest thing she could do for them was put them out of their misery. Today, the director of the Erie County SPCA believes the opposite, and is throwing her organization's resources into saving their lives, not taking them. Find out how history, research, data, and experience all came together to turn a skeptic into a community cat advocate, and how you can change minds and policy in your region the same way.

 

How to Work With Municipalities to Save Community Cats

Do you ever feel like your local government agencies and officials just won't listen when you try to talk to them about progressive community cat policies? Maybe it's not them, but you. Rick DuCharme of First Coast No More Homeless Pets in Jacksonville, FL, explains how the power of relationships led to one of the nation's most successful community cat programs, and what steps you need to follow to build effective working relationships with the decision-makers in your community. Hint: It involves doughnuts.

 

Community Cat Advocacy through a Lawmaker's Eyes: Tips from Jennifer Fearing

Maddie's Institute spoke with Jennifer Fearing, California Senior State Director for the Humane Society of the United States, about how learning to see the community cat issue through a lawmaker's eyes can lead to success.

 

Community Cat Advocates Need a Messaging Makeover: An Interview with Becky Robinson

Alley Cat Allies' Becky Robinson has been in the trenches of community cat advocacy all over the country. She thinks it's time we changed our approach to that advocacy, and shares her thoughts on what she believes will be an effective new direction for people trying to get community support for cat-friendly public policies.

 

How to Get the Media to Take Your Animal Welfare Story Seriously: Tips from Christie Keith

As a pet columnist for the San Francisco Chronicle/SFGate.com and a blogger known to write about no-kill and shelter reform issues, Christie Keith says she received "what may amount at this point to two tons of communications from animal advocates wanting me to write about their cause." Find out why most of these messages are doomed to fail, and how yours can succeed.

 

Tips for Working with Local Lawmakers: An Interview with Ryan Clinton

Ryan Clinton shares the strategy for working with local lawmakers that helped Austin, TX, set an aggressive no-kill goal for their city – which has been saving more than 90% of its animals for more than a year now.

 

Other Links

 

Events