Cracking the Infection Control Code: Using and Interpreting Diagnostic Tests to Control Infectious Diseases in Shelters
February 2013
Recommended Audience: Veterinary Team
Are you relying on guesswork to understand what infectious diseases are occurring in your shelter population? Are you unsure what diagnostic tests are available, what the results mean and how reliable they are? Do you think diagnostic tests are not practical or cost-effective in a shelter setting?
Many diagnostic tests can be of tremendous value in helping shelters prevent future outbreaks of infectious disease. Diagnostic testing can also save money and - most importantly - can save animal lives.
Please join us for a free webcast from Maddie's InstituteSM with leading veterinary researcher Dr. Ronald D. Schultz of the Maddie's® Laboratory for Diagnosis and Prevention of Shelter Diseases at the University of Wisconsin-Madison. Dr. Schultz will give the audience insights on Cracking the Infection Control Code: Using and Interpreting Diagnostic Tests to Control Infectious Diseases in Shelters. The recorded version of this webcast is available below.
Information covered will include:
Diagnostic tests available to aid in diagnosis of infectious diseases in shelters.
How and when to use the available tests.
Cost, ease of collecting samples and time to obtain results.
How to interpret test results.
How to use test results to control diseases including canine distemper, feline panleukopenia, canine parvovirus and feline and canine infectious respiratory disease complexes.
What to expect from an effective vaccination program.
Cracking the Infection Control Code: Using and Interpreting Diagnostic Tests to Control Infectious Diseases in Shelters is part of an ongoing series of educational programs from Maddie's Institute, a program of Maddie's Fund®, the nation's leading funder of shelter medicine education. Maddie's Institute brings cutting edge shelter medicine information from universities and animal welfare leaders to shelter veterinarians, managers and staff as well as private practice veterinarians, rescue groups and community members to increase the lifesaving of homeless dogs and cats community-wide.
This course has been pre-approved for Certified Animal Welfare Administrator continuing education credits.
After viewing the presentation, click here to take the quiz and receive a Certificate of Attendance!
About the Presenter:
Ronald D. Schultz, MS, Ph.D., Diplomate, ACVM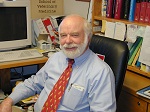 Dr. Ronald Schultz is Professor and the Founding Chair of the Department of Pathobiological Sciences in the School of Veterinary Medicine at the University of Wisconsin-Madison, having held that position for the past 30 years. Prior to joining the University of Wisconsin-Madison in 1982, he was on the faculty at the Veterinary Colleges at Cornell University from 1970-78, and at Auburn University from 1978-82.
Dr. Schultz has long-standing scientific interests in the following areas: immunopathogenesis of viral diseases; developmental aspects of immunity; effects of environmental factors on immune systems; vaccinology. Research projects in his laboratory are numerous and varied. Primary emphasis is on the pathogenesis of viral infections, Canine Distemper and Parvovirus and Feline Leukemia Virus. Studies are ongoing on development and/or testing of various adjuvants and vaccines for numerous bacterial and viral diseases of domesticated species. The role of various environmental factors on the immune system is being determined in an effort to explain the mechanism that nutrients, hormones and environmental toxicants have on susceptibility to infectious disease.
Dr. Schultz was the first president of the American Association of Veterinary Immunologists and received the first Distinguished Veterinary Immunologist Award. He has also served as President of Conference of Research Workers in Animal Diseases. He was a member of the American Animal Hospital Associations' Canine Vaccine Task Force, the American Association of Feline Practitioners' Feline Vaccine Task Force and the Veterinary Vaccine Group of the World Small Animal Veterinary Association. He was also a member of the AVMA Feline Vaccine Associated Sarcoma Task Force.
Dr. Schultz has authored numerous on immunology and on infectious diseases. He has trained many graduate students and post-doctoral fellows and has received many grants for his research and he holds a number of patents.