What's New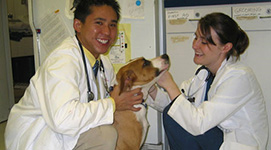 Shelter medicine was unheard of in the 1970s. Today, many animal shelters are working with shelter medicine programs and veterinarians to save upwards of 90% of the animals in their care. Watch our short documentary film, Shelter Medicine the Past, Present and Future of Saving Animals' Lives. For more info and to watch the video click here
Featured Dog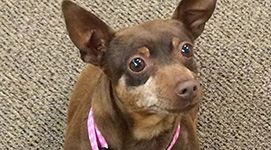 Tootsie's a Min-Pin mix and as sweet as can be (she is, after all, named after a Tootsie Roll) and a natural as your sidekick.
She's also had a little experience being on TV so she'll make a great co-anchor, too!

Featured Cat
Claire may look like a party girl but there's nothing she enjoys more than relaxing at home! Read more
Subscribe to our Maddie's Mailing List to stay up to date on all the happenings at Maddie's Fund.