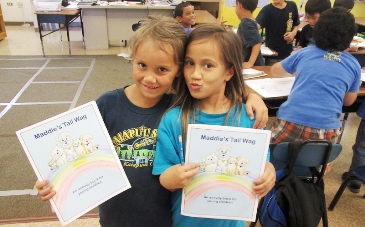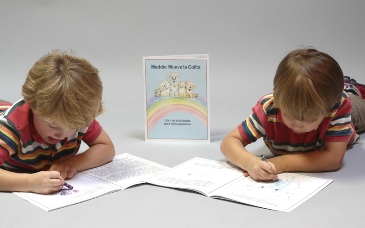 Maddie's Tail Wag 
Maddie's® Tail Wag is a collection of activities and coloring pages for animal lovers six-years-old and under - although older school children can enjoy them, too! The fun and educational pages are intended to help children develop skills necessary for entrance into kindergarten. It's a great tool for parents as well as animal welfare organizations that want to develop their humane education programs. While youngsters work on basics like shapes, colors and numbers, Maddie and her cartoon friends help teach responsibility, empathy and the benefits of animal companionship.
Maddie's® Tail Wag was inspired by a Miniature Schnauzer named Maddie, the frisky, energetic, loyal and loving companion of Cheryl and Dave Duffield, founders of Maddie's Fund.
The 32-page booklet can be downloaded and copied via the links below.
For animal welfare organizations, up to 125 English and 100 Spanish printed copies may be ordered by sending a written request to info@maddiesfund.org. Please include the name of your organization and your mailing address.
Download the English version PDF now!

Download the Spanish version PDF now!

Maddie's friends Michael (2.5 yrs.) and Emma (4 yrs.) have provided beautiful samples of the coloring pages available in this section.