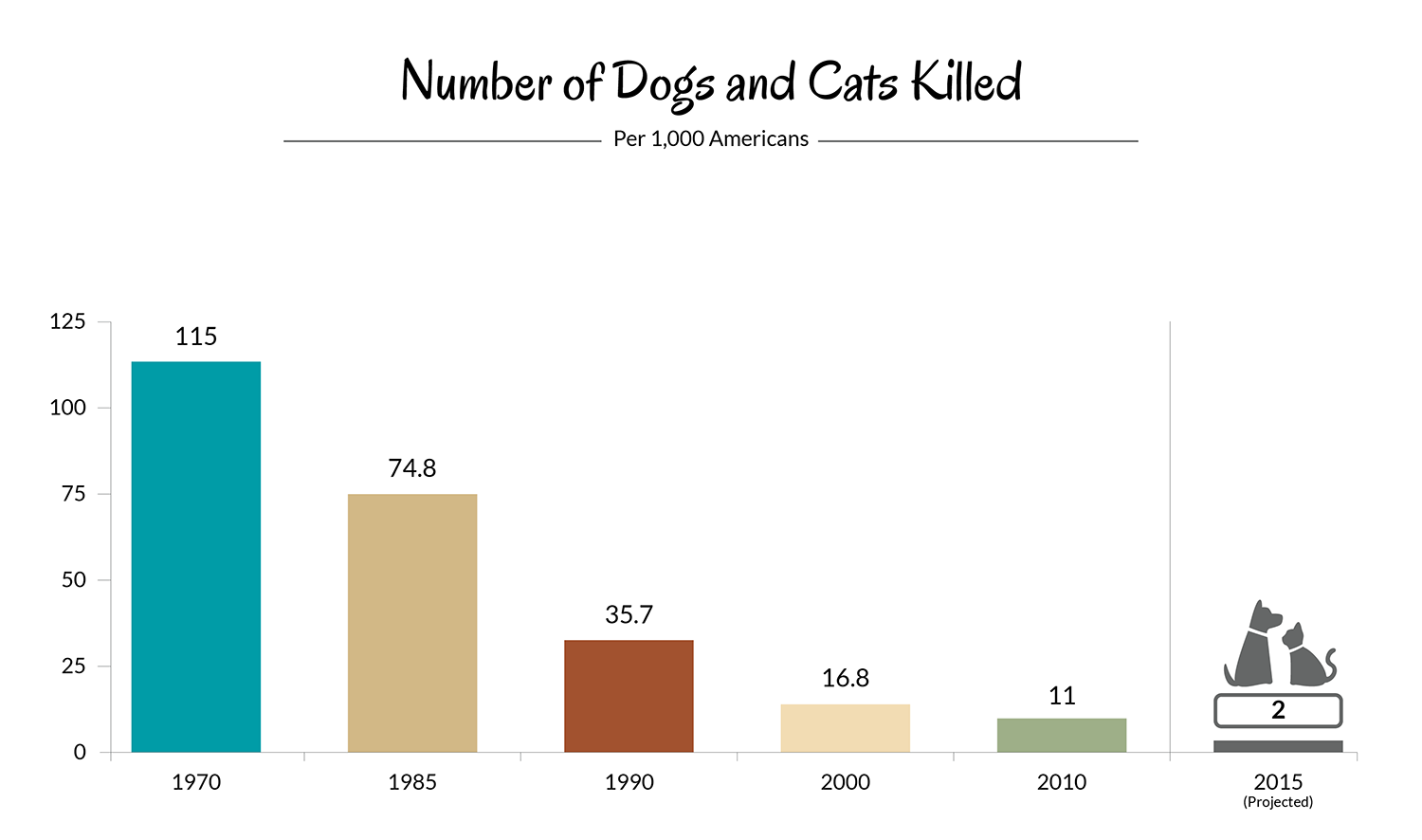 Saving all of our healthy and treatable shelter dogs and cats by 2015 is more than possible - we're almost there!
No-Kill Progress
Maddie's Fund® believes we can reach the goal of a no-kill nation by 2015, and countless indicators strongly support the claim.
Fewer Pets Are Entering Shelters
The bond between people and companion animals has deepened. For those who can no longer keep a pet, many re-home a beloved pet themselves rather than depending on a shelter.
Years of spay/neuter surgeries by private practice veterinarians, animal shelters, low-cost clinics and TNR programs have radically reduced shelter intake.
Innovative new shelter programs are enabling pet owners keep their pets rather than surrender them.
Bold new initiatives are keeping pets out of shelters. Some municipal shelters no longer accept healthy stray, feral and surrendered cats if the only possible outcome is death. New TNR programs neuter and return cats back to the community before they ever enter the shelter.
Adoptions Are Up - Deaths Are Down
More people are adopting pets. The percentage of pets in homes that were adopted from animal shelters and rescue groups rose from 27 % in 2008 to 29.5% in 2010, with the number of healthy and treatable pets losing their lives for lack of a home dropping down to 2.7 million.
New shelter programs like orphaned kitten nurseries are saving infant dogs and cats who would have been euthanized in years past.
Adoption events like Maddie's® Pet Adoption Days place record numbers of pets - and bust the myths that have been used to justify euthanasia such as: "Too many pets not enough homes," "nobody will adopt an older pet," "adopting pets for free means poor quality adoptions."
Resources and the U.S. Population Are Growing
More and more animal welfare resources are coming into play. Funding from foundations has increased from $2 million in annual giving in 1996 to an estimated $50 million in 2013, and is projected to climb to $75 million by 2015.
More shelter medicine resources are coming online through colleges of veterinary medicine. Starting with a three-year grant to the University of California at Davis in 2001, Maddie's® Shelter Medicine Programs have sparked shelter medicine curricula in 24 of the 28 veterinary schools nationwide. College classes and programs are creating a talented pool of veterinarians with specialized knowledge and skills to keep shelter pets healthy and treat those pets who are sick and injured, thereby enabling more cats and dogs to be adopted into loving new homes.
The United States pet-owning population is growing. In 1996, there were 130 million pets in homes. Today, there are about 175 million pets in homes, and by 2015 there will likely be over 185 million, including first-time pet owners and those who will want to replace a beloved animal companion.
No-Kill Communities Are Leading the Way
From Dane County, Wisconsin to Erie County, New York, Maddie's® Community Collaborative Projects are demonstrating successful no-kill community-building in diverse geographic, demographic and socio-economic regions.
At least 200 no-kill communities are thriving throughout the country from Austin, Texas to Reno, Nevada to Tompkins County, New York.
The Public is On-Board
Public attitudes are changing. Today, the vast majority of pet dogs and cats are considered family members1, provided with the love, attention and medical care formerly reserved for the humans in our family. Folks who see their pets as family are not willing to let them needlessly languish or die in animal shelters.
In a 2011 Associated Press poll, respondents were asked to select one of two statements as representing their view:
Animal shelters should only be allowed to euthanize animals when they are too sick to be treated or too aggressive to be adopted = 71%
Sometimes animal shelters should be allowed to euthanize animals as a necessary way of controlling the population of animals = 25%
Shelter Pet Marketing is Everywhere
The Advertising Council, Maddie's Fund and The Humane Society of the United States launched The Shelter Pet Project in September 2009. This campaign, the very first from the Ad Council focused on pets, urges people who are looking for a companion animal to make shelters and rescue groups their first choice for adoption.
The campaign has generated over $130 million in donated media placements on billboards, bus shelters, websites, TV and radio. Over four million visitors have viewed an available pet for adoption on The Shelter Pet Project website and 2.2 million have watched Shelter Pet Project PSAs on YouTube.
TV commercials promoting shelter pet adoptions from pet food companies and animal welfare organizations are also in abundance. adopting a pet from a shelter has become the popular, accepted and politically correct thing to do.
1American Animal Hospital Association, 1995 Pet Owner Survey