November 5, 2015
Contact:
Sharon Fletcher, Director of Marketing & Communications
925.310.5458
fletcher@maddiesfund.org
PLEASANTON, Calif., November 5, 2015 -- To honor their great work and help them to continue their lifesaving, Maddie's Fund® has awarded $10,000 grants to three animal welfare organizations, Petaluma Animal Services, Jameson Animal Rescue Ranch and Wine Country Animal Lovers, in the fire stricken regions of Napa and Lake Counties in California.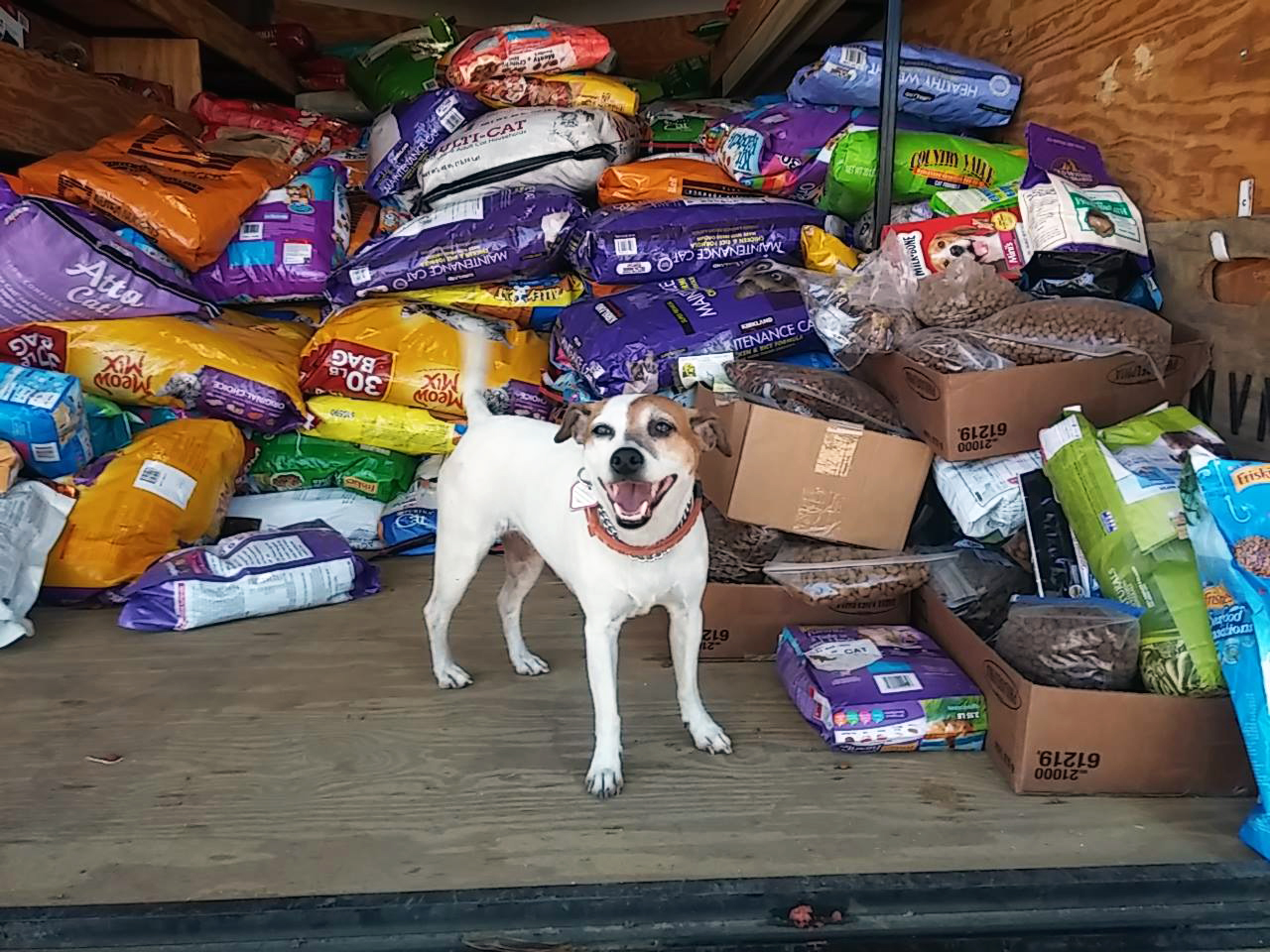 Dog Emma is pictured in the food trailer with Petaluma Animal Services, one of many groups assisting those affected by the Valley Fire.
"A grant from Maddie's Fund will go a long way to help injured animals," says Pam Ingalls, Board President, Wine Country Animal Lovers. "This unexpected funding will greatly assist in our ability to provide financial assistance to many veterinarians and clinics who are working hard to treat the animals injured by the fire."
"So this happened - it truly made our day - our year!" said Valerie Fausone, Director of Dog Training and Behavior at Petaluma Animal Services, upon receiving news of the grant. "We all work so hard and hope for the best, so to receive a phone call like this is unexpected and truly amazing! We are so thankful to Maddie's Fund."
"We are very touched and honored to be included in the Maddie's Fund family. Your support will help us to continue to save the lives of dogs and cats in Napa and Lake Counties," said Amy McGuire, Director of Advancement, Jameson Animal Rescue Ranch.
"Thanks to Maddie, we know the comfort and joy that companion animals can bring to their family, even during stressful times. We are honored to be able to help by providing this funding," says Mary Ippoliti-Smith, Maddie's Fund Executive Leadership Team. "And we are so grateful for the way the community at large and other animal welfare organizations have reached out to help ease the emotional burden for these families while they rebuild," she continued.
To find out more about these agencies, follow their Facebook pages at:
Petaluma Animal Services, Jameson Animal Rescue Ranch, and Wine Country Animal Lovers.
---
About Maddie's Fund
Maddie's Fund® is a family foundation established in 1994 by Dave and Cheryl Duffield and is the fulfillment of a promise to their inspirational dog, Maddie. She provided them much joy for over ten years and continues to inspire them today.
The Foundation has awarded over $265 million in grants toward increased community collaborations and live outcomes, pioneering shelter medicine education and establishing foster care as a standard across the U.S.
Maddie's Fund proudly offers the industry a national voice, important funding opportunities for bold ideas, learning resources and access to collaborate and share innovative solutions. The Foundation invests its resources in a commitment to keeping pets and people together, creating a safety net of care for animals in need and operating within a culture of inclusiveness and humility. #ThanksToMaddie.