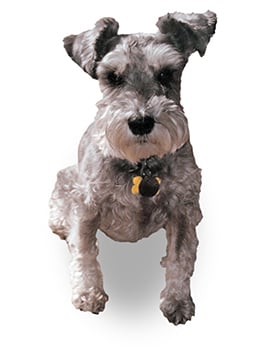 Maddie was a beloved Miniature Schnauzer whose unconditional love, devotion, loyalty and spirit inspired a revolution, and the formation of a charitable foundation, Maddie's Fund® in her honor.

Dave and Cheryl Duffield founded Maddie's Fund to honor their sweet yet feisty and spirited dog. It's the fulfillment of a promise made to Maddie while playing together on the living room rug, that if they ever had any money, they would give back to her and her kind, so that other families could experience the immense joy they have with her. And the rest, as they say, is history.

Dave and Cheryl made good on that promise after successfully having founded several high tech companies. They have endowed Maddie's Fund with more than $300 million and the Foundation has spent more than $225.7 million through fiscal year 2017-18 to save dog and cat lives. The Duffields have invested their resources to create a no-kill nation where every dog and cat is guaranteed a healthy home or habitat. In their lifetime, they have given more of their personal wealth to the animal welfare cause than any other individuals. All thanks to Maddie.
Maddie's Movie