May 2014 by Sarah Kirk, DVM
Audience: Veterinary Team
Babesia gibsoni is an intracellular parasite of red blood cells. This presentation, given by Dr. Sarah Kirk at the University of Florida's 7th Annual Maddie's® Shelter Medicine Conference, provides a case study in the diagnosis and management of B. gibsoni in pit bulls rescued from large-scale fighting rings. As a shelter veterinarian, you may encounter Babesia in your canine population; how should you respond?
Learning objectives:
Identify which dogs should be suspected of harboring, and therefore be tested for, B. gibsoni.
Learn about the treatment protocol used in the ASPCA emergency shelters, its "success rate" and side effects.
Learn how infected dogs should be handled with regard to co-housing, play groups and adoption into a household with resident dogs.
Learn about treatment "failures" and possible next steps for these patients.
After viewing the presentation, click here to take the quiz and receive a Certificate of Attendance!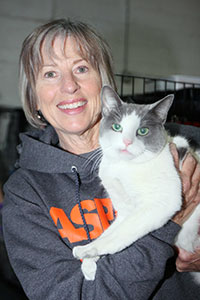 Dr. Sarah Kirk
Dr. Kirk received her DVM from Michigan State University in 1977 and completed her Certificate in Shelter Medicine from UF in 2013. Her career has been spent in private practice, research, and her passion, shelter medicine. After "retiring" to Florida in 2008, she became involved as a volunteer with the Shelter Medicine Department at UF, participating in Operation Catnip, shelter consultations and disaster response. Following her work as a consultant with the ASPCA on the Caboodle Ranch case, she was hired by the ASPCA in November of 2012. As the Field Investigations and Response (FIR) Team Medical Director, she is responsible for the protocols used to provide consistency of response for emergency sheltering.