July 2013 by Joyce Briggs, MS
Audience: Veterinary Team
What could our field do with new drugs or vaccines to prevent unwanted litters, without surgery? Joyce Briggs, President of the Alliance for Contraception in Cats and Dogs (ACC&D), discusses the status of research on non-surgical sterilants and how ACC&D (and others) are helping to further research and availability to ensure the most progressive and safe tools become available to our field. This presentation was part of the 2013 ASPCA/Maddie's® Shelter Medicine Conference.
To download an MP3 file for playback on mobile devices, right click the scrub bar below and select Save Audio As.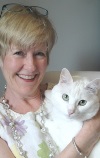 Joyce Briggs, MS
Joyce Briggs has been involved in a leadership capacity with ACC&D since 2004 and has served as president since 2006. During this time she has helped substantially advance interest in, work toward, and support for creating non-surgical sterilants for progressive population control of cats and dogs. She has led the organization's strategic planning, fundraising, and program development, established a respected Scientific Advisory Board, and produced and directed two major scientific symposiums and three scientific think tanks. She has played a key cultivation role in developing strategic partnerships advancing this field.