April 2020 by Shelly Thompson, Tawny Hammond, Cheryl Schneider, Teresa Johnson and Lee Ann Shenefiel
Audience: Executive Leadership, Foster Caregivers, Shelter/Rescue Staff & Volunteers, Veterinary Team
Does your team fall apart when difficulties seem insurmountable in times of crisis? Learn from people who have experienced, first-hand, what it means to be leaders of change in difficult municipalities. Shelly Thompson moderates this panel to help you get the insider tips on how to cultivate a team of resilience and how to build strong teams that will rally around you.
This presentation was recorded by Maddie's Fund® at the 2020 American Pets Alive! Conference.

About Shelly Thompson (moderator)
Director of Grants, Maddie's Fund®
As the Director of Grants, Shelly oversees all aspects of grant making for Maddie's Fund®, from legal compliance to management of grants budgeting, requests, payments and reporting. She works with the Executive Leadership Team and Senior Management Team to develop grant opportunities and encourage grant proposals that advance the Foundation's Strategic Goals and Mission. She also serves on the board of both Shelter Animals Count and Animal Grantmakers.
Back in 2002, after eight years at leading technology company PeopleSoft, Inc., Shelly jumped at the opportunity to work at Maddie's Fund. She believes this is a very exciting time in animal welfare, with so much progress having been made in her time at Maddie's Fund and is thrilled to be able to help shepherd that progress even further.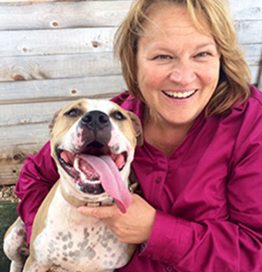 About Tawny Hammond
National Director for Leadership Advancement, Best Friends Animal Society
Tawny has more than 30 years of experience in the public service arena, creating and implementing programs and services for people and their pets, working effectively with appointed and elected officials, creating and leading teams focused on professional excellence and lifesaving best practices. Tawny served for more than 25 years in municipal government in Fairfax County, Virginia where she brought the Fairfax County Animal Shelter to a 90 percent live release rate in less than two years by removing breed restrictions, growing a robust volunteer program, establishing a cutting-edge foster program for the dogs losing their lives, strengthening community cat programs, and establishing the animal shelter as a community center for residents of Fairfax.
Tawny is also the former chief of animal services for the city of Austin, Texas. Under Tawny's leadership, Austin and Travis County, Texas, reached a new milestone in 2017, achieving live outcomes for 98 percent of the more than 17,000 animals who came through the doors.

About Teresa Johnson
CEO/Executive Officer and Chief Lifesaving Officer, Kansas City Pet Project
Teresa is the oft-honored CEO and Chief Lifesaving Officer for Kansas City Pet Project in Kansas City, Missouri. After taking over operations of Kansas City's old municipal shelter in 2012, Teresa and her team used their "solutions -not excuses" approach to transform the shelter into a national leader in no-kill animal shelters in the United States by setting a lifesaving record of 95.7 percent. Prior to Kansas City Pet Project, the city's animal shelter had been euthanizing up to 70 percent of the animals in their facility. In 2018, Teresa received the Maddie's® Hero Award from Maddie's Fund for her work in advancing the welfare of companion animals in the United States and leading the way with innovative ideas, progressive thinking, and lifesaving actions. Prior to her work in animal welfare, Teresa was the vice president of risk management and control for J.P. Morgan Asset Management. She holds a bachelor's degree in finance from the University of Missouri - Columbia.

About Cheryl Schneider
Director of Animal Services, Williamson County Regional Animal Shelter
A former nurse/paramedic for 32 years, Cheryl became interested in the city-operated animal shelter in Lockhart during her tenure as Emergency Medical Services director. Concerned for the welfare and outcome of the animals at the shelter, she formed the volunteer group Cause for Paws, Inc. in 1999 whose mission was to assist with the shelter's operations and funding. Soon after, Animal Services was placed under her management. After retiring from the City of Lockhart in 2007, Cheryl went to work in Williamson County as the director for the newly built regional animal shelter, which intakes about 7,000 animals annually. During her tenure, the euthanasia rate has steadily decreased and a save rate of over 90 percent has been achieved and kept since December 2010. Cheryl holds a Bachelor of Science in Human Resource Management.

About Lee Ann Shenefiel
South Central Regional Director, Best Friends Animal Society
Lee Ann started as the South Central Regional Director with Best Friends in January 2019 after serving as interim Chief Animal Services Officer at the Austin Animal Center since 2017. There she piloted engagement-based programming to help neighborhoods with higher-than-average intake and lower return-to-owner rates. Prior to her role as interim chief, Lee Ann served as deputy chief and oversaw animal protection, outreach and prevention programming and the center's volunteer program, which is now a Service Enterprise-certified program. Before moving to Texas, Lee Ann served as Assistant Director of the Fairfax County Animal Shelter in Virginia, where she managed intake, adoptions and business services and helped to develop policies and programs that brought the shelter to a save rate of over 90% for the first time.