February 2020 by Kristen Hassen-Auerbach, Dr. Sheila Segurson, Kelly Duer and Teresa Johnson
Audience: Executive Leadership, Shelter/Rescue Staff & Volunteers, Veterinary Team
What does it mean to be foster centric? Learn from the people who have elevated foster care from a sideline shelter program to a best practice. This presentation was recorded by Maddie's Fund® at the 2020 American Pets Alive! Conference.
About Kristen Hassn-Aurbach (moderator)
Kristen is the Director of Pima Animal Care Center, Pima County's only open-admissions animal shelter which takes in 17,000 homeless, lost and abandoned pets annually and serves 15,000 animals through animal protection and outreach services. Under her direction, PACC is saving more than 90 percent of the cats and dogs who come to the shelter including orphaned puppies and kittens, pets recovering from illness and injuries, and animals who have been victims of cruelty or neglect. In 2017, she oversaw the opening of the newly-constructed state-of-the-art, animal services facility.
Kristen has received national recognition for her innovative, lifesaving programs. Her efforts have been featured in numerous national publications and websites, such as Animal Sheltering magazine, the Huffington Post, BarkPost, the Dodo and Buzzfeed, and on TV networks, including CNN, Fox and ABC. Kristen formerly served as the Deputy Director at Austin Animal Center in Austin, Texas as well as the Assistant Director at the Fairfax County Animal Shelter in Fairfax, Virginia.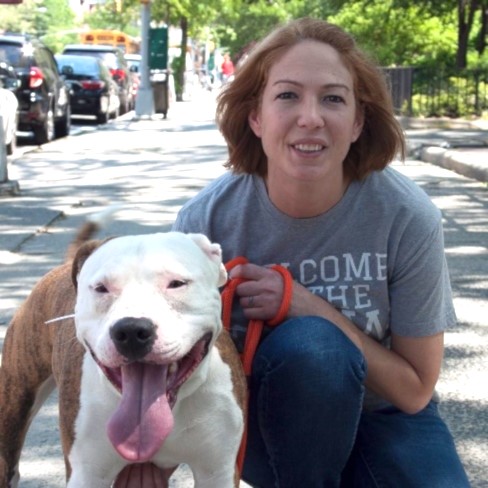 About Kelly Duer
As Foster Care Specialist, Kelly's focus is on helping shelters and rescue organizations increase lifesaving through the implementation of robust foster care programs. Her role includes consulting with shelters, creating and providing training for organizations and their foster coordinators, writing and assisting with research on foster care.
Kelly previously coordinated a foster program that brought orphaned children to the United States in order to find them permanent adoptive homes, worked as the Foster Expansion Coordinator for a national study of foster care, and assisted with the behavioral foster study that was conducted at the Fairfax County Animal Shelter. Her work with foster care and social media has been featured in many national publications, websites and networks, including Animal Sheltering magazine, the Huffington Post, Best Friends magazine, BarkPost, iheartdogs.com, HuffPost Live and Fox News.

About Teresa Johnson
Teresa is the oft-honored CEO and Chief Lifesaving Officer for Kansas City Pet Project in Kansas City, Missouri. After taking over operations of Kansas City's old municipal shelter in 2012, Teresa and her team used their "solutions - not excuses" approach to transform the shelter into a national leader in no-kill animal shelters in the United States by setting a lifesaving record of 95.7 percent. Prior to Kansas City Pet Project, the city's animal shelter had been euthanizing up to 70 percent of the animals in their facility. In 2018, Teresa received the Maddie's® Hero Award from Maddie's Fund for her work in advancing the welfare of companion animals in the United States and leading the way with innovative ideas, progressive thinking, and lifesaving actions.
Prior to her work in animal welfare, Teresa was the vice president of risk management and control for J.P. Morgan Asset Management. She holds a bachelor's degree in finance from the University of Missouri - Columbia.

About Sheila Segurson, DVM
As Director of Research for Maddie's Fund®, Dr. Sheila (D'Arpino) Segurson's goal is to develop and support research that increases pet adoptions from rescue groups and shelters and improves pet well-being. She relies upon her background working in and with animal shelters, pet foster care programs, and veterinary medicine to lead Maddie's Fund research efforts.
After graduating from UC Davis School of Veterinary Medicine, Dr. Segurson worked as a general practice/emergency/shelter veterinarian at pet hospitals in California. Then, in 2005, Sheila graduated from Maddie's Shelter Medicine Program at UC Davis, becoming the first in the nation to complete a three-year, post-graduate behavior specialty training program with an emphasis on shelter animals and shelter behavior programs. She worked for several pet welfare organizations, including UC Davis Koret Shelter Medicine Program, The Sacramento SPCA, and the Animal Rescue League of Boston, where she developed and implemented enrichment/behavior modification programs.