July 2016 by Lisa Gunter, MA
Audience: Executive Leadership, Shelter/Rescue Staff & Volunteers
Should we continue to use visual identification if it could have adverse effects on length of stay and adoptions? Four groundbreaking case studies show that removing labels is a low-cost intervention that could improve outcomes for many - perhaps all - breeds, including pit bulls. This presentation by Lisa Gunter, MA, was recorded at the 2016 Best Friends National Conference.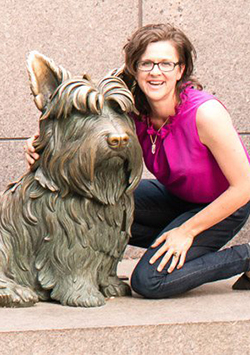 About Lisa Gunter, MA

Lisa Gunter, M.A., is a graduate student/research assistant at Arizona State University in the department of psychology and conducts her research under the mentorship of Clive Wynne in the Canine Science Collaboratory. Before starting her graduate studies, Lisa worked for nearly a decade with dogs, both in animal shelters and with pet dogs and their owners.

Lisa's research attempts to understand better the influence of breed labels on perceptions of dogs, what breeds and breed mixes are in animal shelters, stress and its impact on the welfare of kenneled dogs, and post-adoption interventions focused on owner retention. She has presented her research at numerous conferences, including conferences presented by the Association of Professional Dog Trainers, the Interdisciplinary Forum for Applied Animal Behavior, the Veterinary Behavior Symposium and the International Society of Anthrozoology.