May 2014 by Kate Hurley, DVM, MPVM
Audience: Executive Leadership, Shelter/Rescue Staff & Volunteers, Veterinary Team
What if there were a magic wand we could wave over animal shelters to increase cat adoptions while cutting daily care costs, reducing stress for staff, creating a more welcoming environment for volunteers and visitors and dramatically improving the health and welfare of shelter cats? It's not quite as easy as a magic wand, but Capacity for Care (C4C) can have these benefits and more.
In this workshop presented at the University of Florida's 7th Annual Maddie's® Shelter Medicine Conference, Dr. Kate Hurley will discuss the elements of Capacity for Care in the context of the Five Freedoms and the ASV Guidelines for Standards of Care in Animal Shelters; describe in detail the steps for calculating required physical and staff capacity for care; and provide a variety of practical, real-life strategies to make sure there is a good match between the actual daily population and the required Capacity for Care. The good news about C4C is that it can apply to any shelter, small or large, rich or poor, open or limited intake. And the even better news is that attaining C4C in the shelter frees resources to invest in building Capacity for Care in the community as well. We now know that cats, people, wildlife and communities are best served when we admit cats to the shelter in balance with our ability to provide care and assure a live outcome for every healthy cat. C4C will help you get there.
After viewing the presentation, click here to take the quiz and receive a Certificate of Attendance!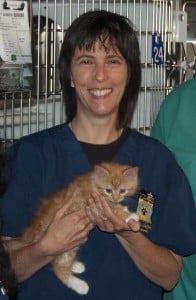 Kate Hurley, DVM, MPVM
Kate Hurley is the director of the UC Davis Koret Shelter Medicine Program. Dr. Hurley began her career as an animal control officer in 1989. After graduation from the UC Davis School of Veterinary Medicine in 1999, she worked as a shelter veterinarian in California and Wisconsin. In 2001, she returned to UC Davis to become the first in the world to undertake a residency in Shelter Medicine. Following completion of the residency, Hurley became the director of the UC Davis Koret shelter medicine program. Two of her proudest achievements are co-authoring the Association of Shelter Veterinarians' Guidelines for Standards of Care in Animal Shelters and co-editing the textbook Infectious Disease Management in Animal Shelters. She loves all things shelter-related, but her particular interests include welfare of confined dogs and cats, humane and effective strategies to manage community cats, infectious disease and unusually short dogs. She loves shelter work because it has the potential to improve the lives of so many animals and the people who work so hard to care for them.