March 2013 by Barbara Carr
Audience: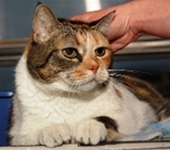 When it was first suggested that perhaps one way to save cats' lives was to manage their intake through appointments, I remember having a panicked feeling that should this be attempted, surely cats would be abandoned by the truckload. I had taken pride for years that our organization never turned an animal away. I was fully aware that this meant overcrowding and the euthanasia of healthy and treatable cats on a pretty regular basis. While this bothered me greatly, the prospect of housecats abandoned willy-nilly haunted me even more.

In 2009 we agreed that we would no longer euthanize any healthy cats and had found a number of ways to increase adoptions. But as summer rolled around, cats began to pile up at the shelter. At one point there were nearly 75 cats housed in our multi-purpose room, a room not designed to care for cats. Their housing was not great, and there were so many cats to care for that providing enrichment for them was increasingly difficult. Our veterinarians warned us of the potential for health problems that accompanies overcrowding.
Then disaster struck in the form of Panleukopenia.
We weren't euthanizing healthy cats, but healthy cats admitted were certainly dying due to the ease of disease transmission that came with our self-imposed overcrowding. Of the 75 cats stuffed into our multi-purpose room, 39 died from Panleukopenia that year.
It was a disaster for the cats in our care. It was unacceptable.
I was ready to try something different. Dying while in the care of an animal shelter was far worse in my estimation than the fear I had for the cats that might potentially be abandoned by owners.
We put our heads together, looked at programs of other shelters that utilized admission by appointment and soon instituted our own program. The staff and I were fully prepared to deal with:
Daily arguments from people;
Cats dumped at admissions while people ran away quickly;
Bad press concerning us turning our backs on cats;
Cats in boxes outside of our doors;
Many more reports of cats abandoned.
But to my great surprise, none of this happened!
It only took about two weeks for our community to catch on and start calling for appointments. Most people are happy to cooperate as soon as they understand that by making an appointment to surrender their cat, they are saving lives. There are occasionally those who find this unacceptable, and we find that we admit a cat every two weeks or so from someone not willing to cooperate. Considering that nearly 100 cats a week are admitted, this is not a hardship.
By having a waiting list to admit cats, we are in a much better position to help folks keep their cat. We offer whatever services we can if that keeps cats in their home: food, sterilization, access to vaccinations or affordable medical care and behavior advice are some of the services we have been able to provide. This has resulted in 8% of owners being able to keep their cats.
Another 12% of owners have successfully re-homed their cats with pointers from us on how to accomplish this safely. Only 2% found admission at other rescues or shelters. Of those with appointments to admit their cats, 8% never showed up.
Waiting list outcomes from October 2011 through July 2012 show that 62% of the cats who went on the list had been admitted. We also discovered that the 766 cats admitted through the waiting list came from approximately 383 homes, so the average number of cats admitted per household was two. Not surprisingly, the reason most often given for relinquishment was "too many animals"!
While the average number of cats from a household has been two, there have been several multi-cat households. In one case a woman had accumulated 22 cats and was completely overwhelmed. In this case and others where an owner wants to have a companion cat or two and has gotten overwhelmed quickly by not having resources to sterilize, we admit all the cats, sterilize them, return one or two to the owner and find homes for the rest. We also provide information to anyone needing assistance for sterilization, and we keep a fund at the local low-cost clinic to help the working poor who may not be able to meet the low-income guidelines of their overall program but simply cannot afford sterilization at the regular rates.
The time an owner has to wait to admit their cat depends on two things: the time of year and if the cat is sterilized. Cats that are not sterilized are the priority. Last January, cats placed on the waiting list waited an average of six days if they were intact and 10 days if they were sterilized. By October, the wait time reached 50 days for intact cats and 80 days for sterilized cats. We offer to spay or neuter intact cats while owners wait for their spot. In that case, we utilize the home as a "foster" home and treat it like any other foster home.
By late February/early March, the list is clear and cats are admitted immediately, but lessons learned tell us that we can help some people keep their cats, and that 8% amounts to a lot of cats.
The first year we instituted the waiting list, it grew to more than 600 cats. Each year we learn more and find more success, and this year the number on the list topped at 430 cats.
While many innovative programs are in place at the SPCA Serving Erie County to save cats' lives, I am delighted to find that managed admissions have been so successful. Not only have we experienced years of every healthy cat being adopted, but this past year nearly every treatable and manageable cat was saved as well. And this year, not a single cat who caught Panleukopenia at our shelter died of it.
More and more I find that challenging our fears of the unknown is what we must do if we are to save the lives of cats. There must be new ways to operate that do not lead to overcrowding, do not lead to euthanasia of healthy and treatable cats and do not lead to hoarding-like behaviors in shelters. Clearly the traditional methods that we have used over the past quarter of a century are not working for cats.
Further, once fearful and suspicious of the "public," I am now a great believer in the fact that the "public" is our very best partner in saving lives. We cannot do this alone. We can't even come close. Embracing the resources of the community and fighting for each life together pays huge dividends and without any doubt saves many more lives than any shelter can by itself.
In the past few years, the success we have found in managing our admissions has resulted in other organizations contacting us to see how it is working. Most recently, a shelter from Australia contacted us for information on how to move forward with this initiative. This has resulted in our putting a short how-to booklet together that we will happily share. Feel free to contact us for more information:
Barbara Carr, Executive Director, 716.629.3500
Amy Jaworski, Director of Admissions, 716.629.3535
Barbara Carr
Barbara Carr is the Executive Director of the SPCA Serving Erie County in Buffalo, New York (lead agency for Maddie's® Pet Rescue Project in Erie County, NY). Under her direction, the organization has gone from a live release rate of 25% in 1993 to 84% in 2012. The agency is currently saving all of their healthy animals and nearly all of their treatable dogs and cats. During her tenure at the SPCA, Barbara has been responsible for creating the Whisker Wag'n (the SPCA's mobile adoption unit), developing the SPCA's off-site adoption program and implementing a foster care program for young and sick animals.