Intake, adoption, and euthanasia numbers from 474 animal shelters and 56 communities reveal status, trends and progress of US animal sheltering
July 6, 2011
Contact:
Sharon Fletcher, Director of Marketing & Communications
925.310.5458
fletcher@maddiesfund.org
For the first time in animal sheltering history, reliable data from a large sampling of shelters and communities across the United States has been compiled into a single, searchable database. The Maddie's Fund Database provides two years of intake, adoption and euthanasia statistics from 474 shelters and 56 communities using Asilomar Accords reporting methods and formulas. The database allows lifesaving to be measured within a community and to be compared to others. Search categories include geographic region, median income, size of human population, total intake, total adoptions, total euthanasia, live release rate, and deaths per 1000.
Data of this kind has never before been available, leaving elected officials, shelter managers, universities, statisticians, investigative reporters, contributors and animal loving citizens in the dark about how well their community is doing in its lifesaving work and how it stacks up against other communities of comparable populations (human and animal).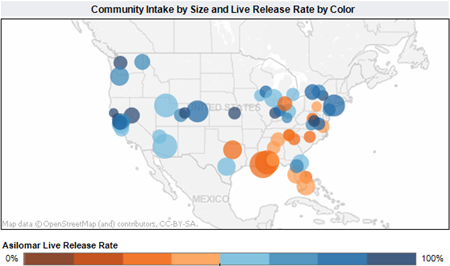 "I can't overstate the importance of this information," says Maddie's Fund President, Rich Avanzino. "Without hard numbers, it's impossible to know where we've been, where we are and where we are going. Maddie's® Database not only gives us a handle on this, but also inspires communities that are below the norm to catch up with the lifesaving gains being made in progressive communities, and gives them the information they need to convince their elected officials, donors and community members to get on board and help them move forward."
Information for the database was submitted by Maddie's community collaborative project participants, special giving grantees and Maddie's® Community Shelter Data Grant recipients who were given $10,000 to $40,000 to provide statistics for two previous years and three years going forward. All data has been carefully reviewed by Maddie's Fund staff.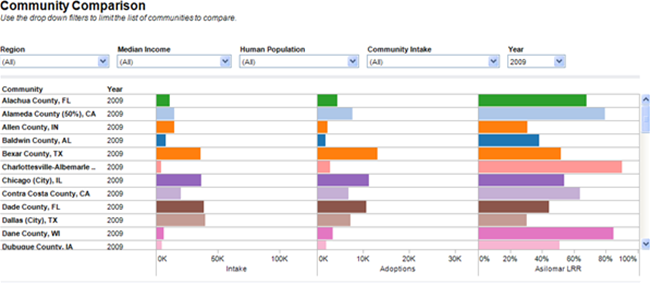 ---
About Maddie's Fund
Maddie's Fund® is a family foundation created in 1994 by Workday® co-founder Dave Duffield and his wife, Cheryl, who have endowed the Foundation with more than $300 million. Since then, the Foundation has awarded more than $237.6 million in grants toward increased community lifesaving, shelter medicine education, and pet adoptions across the U.S. The Duffields named Maddie's Fund after their Miniature Schnauzer Maddie, who always made them laugh and gave them much joy. Maddie was with Dave and Cheryl from 1987 - 1997 and continues to inspire them today.
Maddie's Fund is the fulfillment of a promise to an inspirational dog, investing its resources to create a no-kill nation where every dog and cat is guaranteed a healthy home or habitat. #ThanksToMaddie.