March 2014 by Elizabeth J. Thomovsky, MS, DVM, DACVECC
Audience: Veterinary Team
Neonatal kittens' lives are fragile under the best of circumstances, and that fragility increases when they are orphaned or sick. How can shelter veterinarians, and those working with kitten nursery programs or rescue groups, provide the best care for this population?
Please join Maddie's Fund® and Dr. Elizabeth J. Thomovsky, a veterinarian and board-certified specialist in emergency and critical care at the Purdue University College of Veterinary Medicine, as she presents Critical Care of the Sick Neonatal Kitten.
In this presentation, attendees will learn:
Normal findings of healthy neonatal kittens
Review of diseases of neonatal kittens including clinical presentation/historical signs
Thermoregulation
Fluid support
istration of antibiotics
Feeding the neonate
Orogastric and other tubes
Monitoring
For shelters and rescue organizations: Please share this promotion of this free on-demand webcast with your private practice veterinarians. A flyer is provided in the related links of this page for your convenience. Feel free to download, print and distribute.
Note: This webcast is recommended for veterinarians, licensed/registered vet techs, vet students and other veterinary staff, and is quite technical. However, everyone is most welcome to attend!
Critical Care of the Sick Neonatal Kitten is part of an ongoing series of educational programs from Maddie's Institute, the academic division of Maddie's Fund®, providing the most innovative animal welfare information to shelter staff, veterinarians, rescue groups and community members to increase the lifesaving of homeless dogs and cats community-wide.
This course has been pre-approved for Certified Animal Welfare Administrator continuing education credits.
After viewing the presentation, click here to take the quiz and receive a Certificate of Attendance!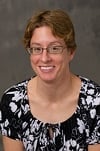 Elizabeth J. Thomovsky, MS, DVM, DACVECC
Dr. Thomovsky is a 2001 graduate of the University of Missouri College of Veterinary Medicine. She completed a rotating small animal internship at the University of Illinois and then practiced in two different small animal general practices in Pennsylvania before completing her residency in Small Animal Emergency and Critical Care in 2008. Dr. Thomovsky was a Clinical Instructor in Emergency and Critical Care at the University of Wisconsin-Madison from 2008-2011 and she became a Clinical Assistant Professor in Emergency and Critical Care at Purdue University in 2011.