August 2017 by Dr. Erica Schumacher
Audience: Executive Leadership, Shelter/Rescue Staff & Volunteers, Veterinary Team
Is automatically testing cats for FeLV/FIV the best course of action or use of available resources? Not necessarily, considering a result of a single test is not definitive and retesting is still recommended in two to three months.
Watch this Maddie Talk to see how Dane County Humane Society in Wisconsin, was able to reallocate resources and funds to other shelter programs and services by switching their policy to not testing all cats prior to adoption for FeLV/FIV, and then decide if it makes sense for your shelter and community!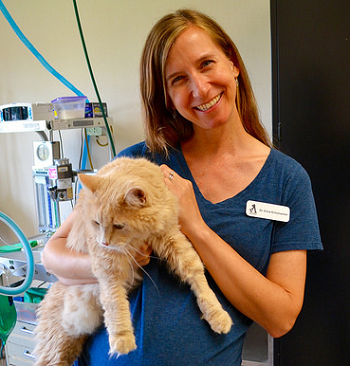 About Erica Schumacher, DVM

Dr. Schumacher is the Chief Shelter Veterinarian at Dane County Humane Society in Madison, Wisconsin. She has a long history at DCHS, starting out as one of the co-founders at the shelter's wildlife center, then beginning her shelter career by working in the Animal Medical Services Department as a Certified Veterinary Technician. She attended the University of Wisconsin-Madison School of Veterinary Medicine and worked with Dr. Sandra Newbury to create the school's first Shelter Medicine elective in 2004.When not at work Dr. Schumacher enjoys gardening, cooking, nature and spending time with her husband, daughter, and three-legged cat Moo Moo.