Award-Winning program trains veterinarians to help animals in shelters
November 12, 2015
Contact:
Sharon Fletcher, Director of Marketing & Communications
925.310.5458
fletcher@maddiesfund.org
PLEASANTON, Calif., November 12, 2015 -- Maddie's Fund® is pleased to announce its grant of $11,220,221 to University of Florida's College of Veterinary Medicine in support of its shelter medicine education program. This is the largest award for veterinary education ever received by the University of Florida College of Veterinary Medicine from a corporation or foundation.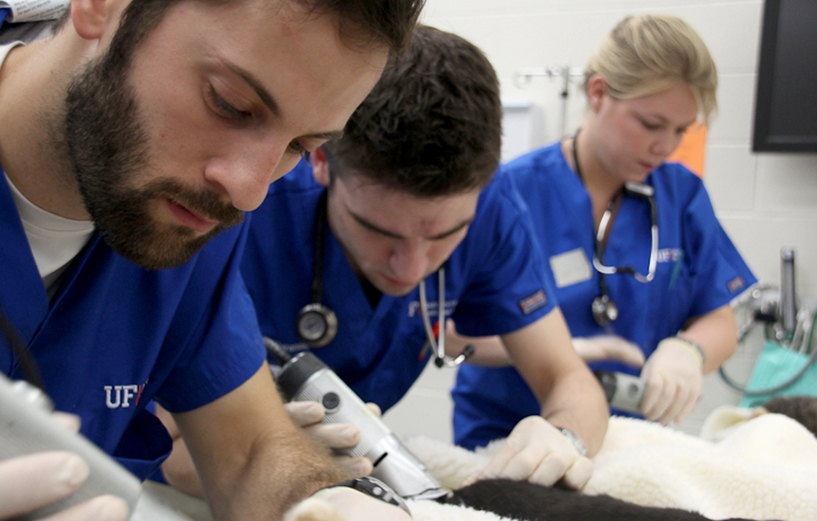 University of Florida students prepping for surgery
This record-breaking amount was reached with the most recent installment of $4,192,657 grant from Maddie's Fund, a family foundation established by Workday co-founder Dave Duffield and his wife, Cheryl. "This is the largest investment we've made to a single institution for shelter medicine," says Mary Ippoliti-Smith, Maddie's Fund's Executive Leadership Team, "and underscores a critical issue the University of Florida's College of Veterinary Medicine is addressing. While U.S. animal shelters take in nearly 8 million dogs and cats every year, more shelters should have a veterinarian on staff to oversee medical, housing, and welfare policies or provide necessary medical care."
"This grant will allow our program to provide the necessary training to veterinarians and veterinary students with the specialized knowledge they need to take on that job" said Dr. Cynda Crawford, Maddie's® Shelter Medicine Program Director at the University of Florida. "Our program is the largest of its kind in the world, and thanks to Maddie, we have provided training to veterinarians now working in shelters all over the United States as well as in other countries. We are regularly consulted by shelters on how to prevent and treat diseases in their animals and to improve their well-being. We work with shelters to help their animals get adopted and conduct research that has saved the lives of countless homeless dogs and cats."
Dr. Laurie Peek, Executive Leadership Team at Maddie's Fund said, "The kind of care an animal-loving public expects from its animal shelters isn't possible without specialized veterinary expertise. The University of Florida has proven they can train future and current practicing veterinarians in those skills, and make a measurable change in both welfare and lifesaving for our nation's shelter animals."
In addition to educating the University of Florida veterinary students on campus, the program has used its funding from Maddie's Fund to create online courses to train practicing veterinarians and veterinary students at other schools in shelter medicine. Participants around the globe can now earn a certificate or Master's degree in shelter medicine. Through award-winning onsite and online education, it addresses the critical gaps in specialized shelter medicine education for both veterinary students and veterinarians.
Thanks to Maddie, the program is now open to non-veterinary shelter management staff, who will benefit from the expertise of University of Florida faculty, veterinarians and veterinary students who are taking the courses.
About the Maddie's Shelter Medicine Program at the University of Florida
The Maddie's Shelter Medicine Program is dedicated to helping shelters achieve their lifesaving goals, training the shelter medical professionals of today and tomorrow, and developing new knowledge to enhance the well-being of sheltered animals. Since its inception in July 2008, the University of Florida's program has grown to become the largest of its kind in the world. The Program mission is to enhance the health and welfare of homeless animals through education, innovation, and advancement of the life-saving goals of sheltering programs, with a vision of a comfortable and enriched life for all companion animals.
---
About Maddie's Fund
Maddie's Fund® is a family foundation established in 1994 by Dave and Cheryl Duffield and is the fulfillment of a promise to their inspirational dog, Maddie. She provided them much joy from 1987 – 1997 and continues to inspire them today.
The Foundation has awarded over $275.7 million in grants toward increased community lifesaving, pioneering shelter medicine education and establishing foster care as a standard across the U.S.
Maddie's Fund proudly offers the industry a national voice, important funding opportunities for bold ideas, learning resources and access to collaborate and share innovative solutions. The Foundation invests its resources in a commitment to keeping pets and people together, creating a safety net of care for animals in need and operating within a culture of inclusiveness and humility. #ThanksToMaddie.