April 2020 by Jennifer Wilcox, DVM and Nipuni Ratnayaka, DVM
Audience: Executive Leadership, Foster Caregivers, Public, Veterinary Team
Learn cutting-edge information not taught anywhere else. Leave this session with the knowledge necessary to fight disease outbreak, medically and operationally, without unnecessary deaths or culling, from veterinarians who have lived through it. This session will prepare you to manage the public's perception and ask them for help during these trying times. This session is not exclusive to medical professionals and should be attended by anyone interested in changing the way disease management is handled in shelters.
This presentation was recorded by Maddie's Fund® at the 2020 American Pets Alive! Conference.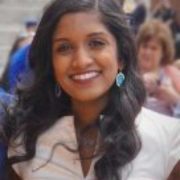 About Nipuni Ratnayaka, DVM
Dr. Ratnayaka attended the University of Texas at Austin for her undergraduate degree and received her doctorate of veterinary medicine at the University of Illinois at Urbana-Champaign. Her involvement with APA! began in 2010 as a volunteer at the start of the Parvo ICU Program, and she soon became the program's manager. While in this role, her passion for shelter medicine grew. She returned to APA! in 2018 as a veterinarian, working in the medical clinic as well as advising veterinarians from around the world on efficient and cost-effective methods in practicing shelter medicine successfully. Her fur babies include her cat Sashimi, parvo-survivors Timber and Luna, and paralyzed cat Sunny.

About Jennifer Wilcox, DVM
After completing a PhD in conservation genetics at University of Colorado, Dr. Wilcox volunteered at a local shelter during her years of post-doctoral research at University of Arizona. The shelter animals compelled her to shift her professional goals, and she finished her veterinary degree at University of Wisconsin in 2008. She returned to Tucson as a shelter vet and eventually became medical director at Humane Society of Southern Arizona. She moved to Pima Animal Care Center (PACC) as their first "shelter" vet five years ago. PACC presented abundant challenges as the largest open admission municipal shelter in Southern Arizona. Community support toward PACC shifted dramatically in 2014 when life-saving medical stories were broadcast and key programs successfully launched.