January 2017 by Steffen Baldwin
Audience: Executive Leadership, Shelter/Rescue Staff & Volunteers, Veterinary Team
Steffen Baldwin shares stories on how he is able to save neglect cases, advocate for "pitbulls" and educate both officers and children while getting to know dogs. This presentation was recorded at the 2016 American Pets Alive! Conference.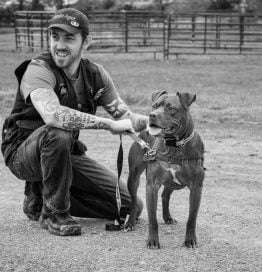 About Steffen Baldwin

Steffen Baldwin is the Founder, President & CEO of the Animal Cruelty Task Force, the Chief Humane Agent for Union County, a co-founder of the Ohioans Against Breed Discrimination, the Ohio representative for the Anti Dog Fighting Coalition, and a regular blogger for the Huffington Post and Bark Post. Steffen is vocal about the need for increased humane education, and he travels across the State of Ohio teaching dog safety classes to children and dog behavior classes to law enforcement officers along with Gordon Shell, in an effort to reduce children being bitten by dogs, as well as dogs being shot by law enforcement. Steffen is an Army veteran and lives in Richwood, Ohio, his son Evan, and his twelve personal dogs and six to eight foster dogs.