MaddieCam: Fearless Kitty Rescue
Fountain Hills, Arizona (MST)
 Fearless Kitty Rescue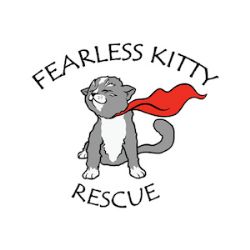 Fearless Kitty Rescue is a non-profit, no-kill, all volunteer cat rescue organization dedicated to rescuing cats left homeless for whatever reason. They also serve as a resource to the community and all pet owners by providing education and information on responsible pet ownership, including the importance of spay/neuter, positive behavior training and good nutrition. See all of their amazing kitties available for adoption!
Scheduled Events
Today
Coloring with Cats

2:30PM-3:15PM


Always Colorful; Always joyous; Always fun!
Monday November 18th, 2019
Creative Play the Kitty Way!

11:15AM-12:00PM


Games, Arts & Crafts, and Kitty Mayhem!
Scott Hallock Serenading Kitties!

1:00PM-1:45PM


Musician Scott Hallock is here to serenade the kittens!
Wednesday November 20th, 2019
Get on your Mats - it's YOGA with Cats

11:15AM-12:00PM


Instructor Sunnie Roberts is back on the Mat with Cats. Let's get our yoga on!