July 31, 2014
Contact:
Sharon Fletcher, Director of Marketing & Communications
925.310.5458
fletcher@maddiesfund.org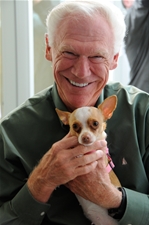 Can the relationship between dogs and people lead us to a better world? Maddie's Fund® President Rich Avanzino thinks so, and will join the Chabot Space & Science Center as the keynote speaker to celebrate the "Pawsitively Incredible Science of Dogs" at the Second Annual Dog Days of Summer on August 9, 2014, in Oakland, California. And yes, dogs are allowed!
Formerly the Executive Director & CEO of the San Francisco SPCA, Rich believes understanding the profound relationship between humans and pets can teach us equally profound lessons about human kindness and the path to world peace.
"Our pets are the great equalizers," says Rich. "They bring people together, which creates conversation with each other that may not have happened without their presence."
In the event's keynote address, Rich will share his vision for a better future, as well as the simple steps we can all take to save all our nation's healthy and treatable homeless pets by 2015. He'll also share the story of Maddie, and how the love of one little dog inspired a movement and a left a very big legacy.
"Chabot is the only science center in the U.S. to offer this type of program for public audiences," says Executive Director Alexander Zwissler. "We are dedicated to inspiring all people about the science surrounding them, from the grass growing under our toes to the way our dog's ears perk up when he hears our voice or car pull into the driveway."
Maddie's Fund will bring dogs and kittens who are in need of loving homes for adoption to this special event. These pets will be available for free to qualified homes, for anyone paying an entrance fee to the Center. Dogs will be on the first floor to the left of the admission booth, and kittens will be upstairs on the second floor. Maddie's Fund will provide a leash and collar (dogs), a carrier (cats), and a few days worth of food to all adopters.
In the event's first year, Chabot welcomed over 700 visitors and their pets to the Center. This year, they'll explore the science around the things that dogs do and love, from training, sleeping, and exercise to play and nutrition. In addition to adoptions, other doggie-themed fun includes:
U.S. Coast Guard explosives detection exercise demo
Canine Circus
Doggie spa
Pet Furrtographer
Doggie massage
Fashion show
Raffle
Full moon hike in the redwoods
Much more!
"Our location in 13 acres of parkland makes it a perfect spot for visitors and their pets to enjoy the venue not just during this signature event, but also during our regular pet-friendly hours," says Alexander.
The festivities begin on August 9th at 11:00 AM at the Chabot Space & Science Center located at 10000 Skyline Boulevard in Oakland. For more information, a complete line-up of pet-friendly events, and to fill out a required waiver to bring your dog to the Center, visit www.ChabotSpace.org.
About Chabot Space & Science Center: Based in Oakland, Chabot Space & Science Center is a 501c3 nonprofit organization dedicated to engaging and inspiring the next generation of science leaders.
---
About Maddie's Fund
Maddie's Fund® is a family foundation established in 1994 by Dave and Cheryl Duffield and is the fulfillment of a promise to their inspirational dog, Maddie. She provided them much joy from 1987 – 1997 and continues to inspire them today.
The Foundation has awarded over $275.7 million in grants toward increased community lifesaving, pioneering shelter medicine education and establishing foster care as a standard across the U.S.
Maddie's Fund proudly offers the industry a national voice, important funding opportunities for bold ideas, learning resources and access to collaborate and share innovative solutions. The Foundation invests its resources in a commitment to keeping pets and people together, creating a safety net of care for animals in need and operating within a culture of inclusiveness and humility. #ThanksToMaddie.