February 2009
Audience: Executive Leadership, Foster Caregivers, Public, Shelter/Rescue Staff & Volunteers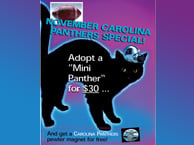 Maddie's Fund and Petfinder.com created a two-year Marketing Competition in 2007 to increase adoptions of hard to place pets. The competition invited animal welfare organizations to submit successful ideas for placing elderly, shy, disfigured or unattractive pets as well as cats and dogs requiring in-home medical or behavioral care - pets who are traditionally left behind in animal shelters, but who must be saved if we are to reach our no-kill nation goal.

Maddie's Fund invested in this competition to accomplish several objectives:
Demonstrate that there is a market for "less than perfect" dogs and cats.
Focus national attention on adoping hard to place shelter pets.
Reward organizations that are doing it well.
Encourage shelters to invest their resources and increase their efforts in this area.
Provide a treasure trove of "how-to" information for other shelters to utilize.
Nearly 200 animal rescue organizations, traditional shelters and animal control agencies submitted entries in both 2007 and 2008. Check out the Related Links to see the list of winners and to read about their entries!