Maddie's Pet Assistant is designed to pull groups of litters – either kittens or puppies – into the app's website from your organization's shelter management software, e.g. PetPoint.
The purpose:
MPA will send one email and one survey on behalf of all kittens or all puppies in a litter, instead of one piece of correspondence for each individual in a litter. This is to avoid confusion and a full inbox for our caregivers! Surveys and automated responses for kittens and puppies 0-8 weeks of age are created so that responses for one individual can apply to all in the group.
Mothers or surrogates:
Ideally, the mother or surrogate cat or dog should not be listed as part of this User-Created Litter Group in PetPoint. This way she will show as an individual foster pet in the MPA website, receiving her own foster care survey as an adult cat or dog. She has her very own, specific needs to be addressed, which may be different from those of her litter of young ones.
How to do this in PetPoint:
There are 2 types of groups in PetPoint (see screenshot below):
System-Created Groups
User Created Groups
Litters should be grouped manually (ideally upon intake) as a User-Created Litter Group.
PetPoint tutorial: http://petpoint.com/help/desktop/animal_group.htm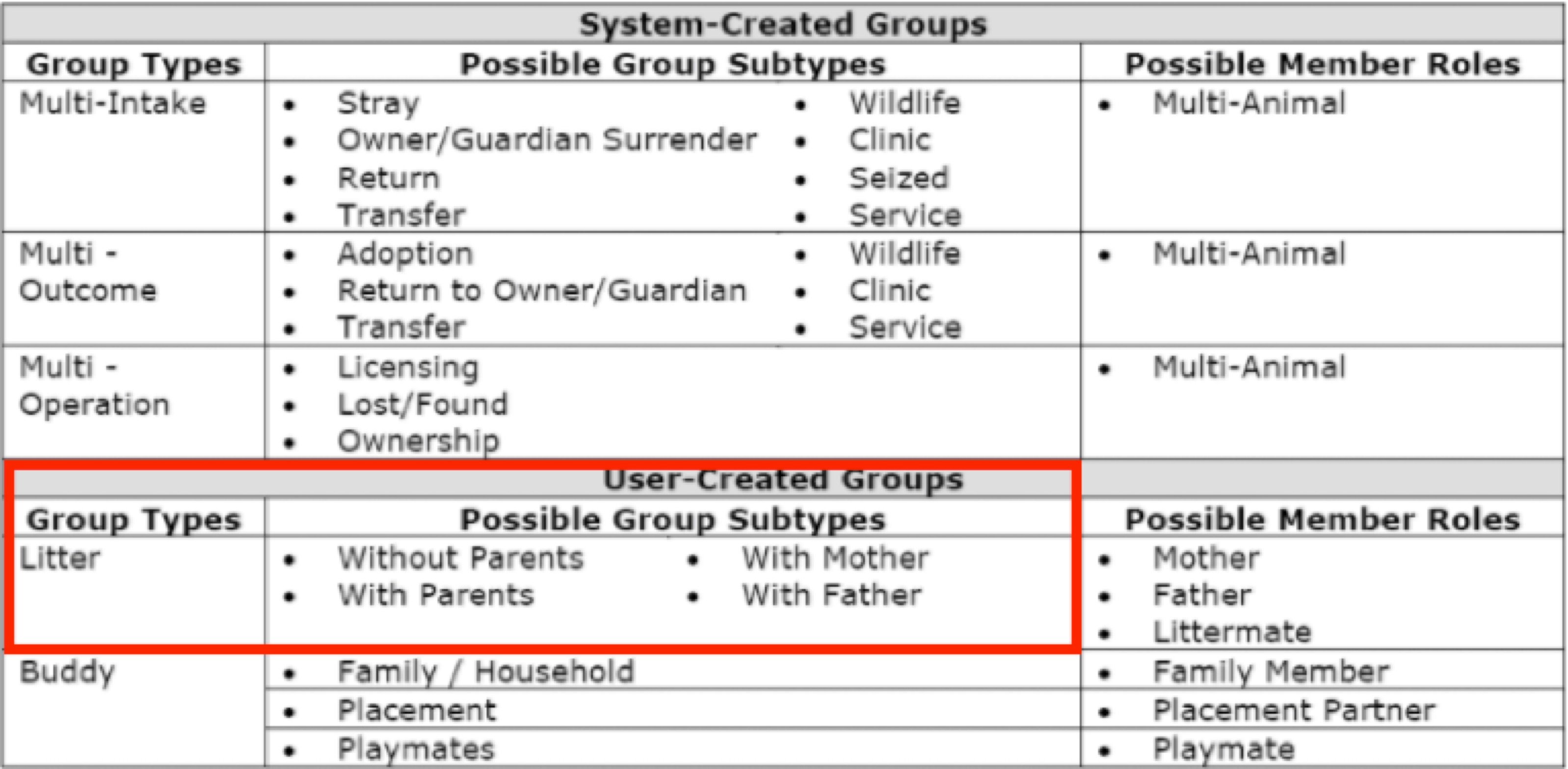 This may be the first time you have used a User-Created Group, like Litter or Buddy.
But, it's very likely that you've already seen System-Created Groups created automatically, for example, the group that is assigned automatically when a litter of kittens is sent into foster care. (This is called a Multi–Operation Foster Group). The two different and independent group types will not override or interfere with one another!
Here are a few steps to lead you into the right direction:
The Group Search Tab

in PetPoint allows you to search for and select animal groups.

Click the

Create New Animal Group

button (seen below) to form a new group; this will take you to the

Details Tab

.

You can see every group an animal belongs to on the

Animal View Report

, or by going to:

Edit > Animal Groups

and searching for the animal.

Please reach out to mpa@maddiesfund.org if you have any questions!
Thank you for all the work you do to save lives.