August 10, 2017 by Dr. Amanda Dykstra
Audience: Executive Leadership, Shelter/Rescue Staff & Volunteers, Veterinary Team
Is your shelter's veterinary team ready to manage a feline panleukopenia outbreak?
In a free webcast co-presented by Maddie's Fund® and the Association of Shelter Veterinarians, Managing a Feline Panleukopenia Outbreak in a Shelter, Dr. Amanda Dykstra of the University of Tennessee College of Veterinary Medicine will review outbreak response in a shelter environment.
She will guide veterinarians and veterinary technicians through active participation in an outbreak investigation scenario. This will include a walk-through of the shelter with photos as well as an overview of the shelter's history, live release rate, available resources, findings from an earlier consult in the same shelter for feline upper respiratory tract disease.
This process is designed to develop the team's ability to respond to outbreaks of infectious disease in a shelter situation.
Topics covered will include:
Initial triage
Population- and individual-level risk analysis
Differential diagnoses based on clinical signs in population
Diagnostics, including how many and which cats to test
The use of antibody titers to divide the population into groups
Medical treatment
Barriers to care/treatment at this shelter vs options other shelters may have
Plans for facilitating adoptions and stakeholder communications
Future prevention and long-term goals
This program has been pre-approved for Certified Animal Welfare Administrator continuing education credits.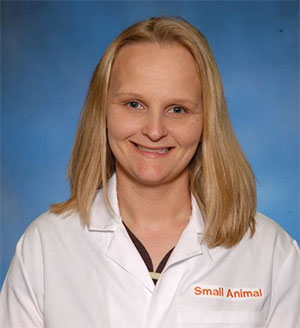 About Amanda Dykstra, DVM
Dr. Amanda Dykstra is a graduate of Iowa State University and has been practicing shelter medicine in various capacities for approximately 13 years. She completed a Fellowship with UC Davis and is working to complete her Masters in Public Health at the University of Tennessee. She teaches shelter medicine and high volume spay/neuter techniques at the University of Tennessee College of Veterinary Medicine, and provides consultation services to shelters in East Tennessee.