April 2020 by Ellen Jefferson, DVM and Sheila Segurson, DVM
Audience: Executive Leadership, Shelter/Rescue Staff & Volunteers, Veterinary Team
Solutions for large breed dogs continue to be one of the most common struggles faced by many shelters and rescues today. In this session, taught by Dr. Ellen Jefferson and Dr. Sheila Segurson, you will gain a deeper understanding of lifesaving best practices and innovations to increase lifesaving for big dogs. Learn how to identify your needs clearly and how create enough resources to give every dog a chance it needs to be safely adopted.
This presentation was recorded by Maddie's Fund® at the 2020 American Pets Alive! Conference.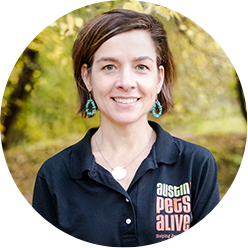 About Ellen Jefferson, DVM
Executive Director for both Austin Pets Alive! and American Pets Alive!
Dr. Jefferson graduated veterinary school in 1997 and started her career in private practice. In 1999, in response to an 85% death rate at the city shelter, she started EmanciPET, a low cost and free spay/neuter clinic in an effort to decrease the number of homeless animals. In 2008, still not satisfied with how fast the city of Austin was moving towards No Kill status, she stepped in as Executive Director of Austin Pets Alive! Since 2008, Austin Pets Alive! has been the driving force to bring the entire city of Austin to a greater than 90% save rate and the largest No Kill city in the US, and to redefine what No Kill means, as Austin's combined save rate is consistently over 94%.
In 2012, Dr. Jefferson linked with San Antonio Pets Alive! to implement the No Kill programs that were proven successful in Austin and helped drive the live release rate from 30% to 80% in just 12 months. She is married to a horse veterinarian and they share guardianship of 4 dogs and a bird but are currently catless for the first time in her adult life. Dr. Jefferson was unanimously chosen as the first recipient of the Avanzino Leadership award, named for the father of No Kill and given for her outstanding contribution to the No Kill movement.

About Sheila Segurson, DVM
Dr. Segurson's goal is to develop and support research that increases pet adoptions from rescue groups and shelters and improves pet well-being. She relies upon her background working in and with animal shelters, pet foster care programs, and veterinary medicine to lead Maddie's Fund research efforts.
After graduating from UC Davis School of Veterinary Medicine, Dr. Segurson worked as a general practice/emergency/shelter veterinarian at pet hospitals in California. Then, in 2005, Sheila graduated from Maddie's® Shelter Medicine Program at UC Davis, becoming the first in the nation to complete a three-year, post-graduate behavior specialty training program with an emphasis on shelter animals and shelter behavior programs. She worked for several pet welfare organizations, including UC Davis Koret Shelter Medicine Program, The Sacramento SPCA, and the Animal Rescue League of Boston, where she developed and implemented enrichment/behavior modification programs.