August 12, 2020 by Dr. Sheilah Robertson and Dr. Sarah Kirk
Audience: Executive Leadership, Shelter/Rescue Staff & Volunteers, Veterinary Team
Due to the COVID-19 pandemic, widespread drug shortages are currently impacting all healthcare providers, including animal shelters and nonprofit veterinary clinics. Those shortages are likely to worsen.
In this webcast, you'll learn what your organization needs to know to provide spay/neuter and veterinary care in a time of COVID from anesthesiologist and pain management specialist Dr. Sheilah Robertson. She will lay out how shelters and clinics can navigate current and anticipated drug shortages, provide tips on how to stay agile and plan ahead, and share information about drugs that have had their "use by" dates extended because of shortages.
Join us on Wednesday, August 12 at 12 noon Pacific / 3:00 PM Eastern.
This 60-minute webcast will be recorded.
Maddie's Fund® has applied for advanced approval of Certified Animal Welfare Administrator continuing education credit for attendees of this webcast.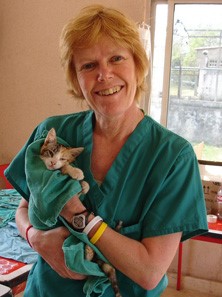 About Dr. Sheilah Robertson, BVMS (Hons), PhD
DECVAA, DACAW, DECAWBM (WSEL), CVA, MRCVS
Courtesy Lecturer at Maddie's® Shelter Medicine Program at the University of Florida
Dr. Robertson received her veterinary training at the University of Glasgow, Scotland. Following graduation, she spent a year as a surgery intern followed by training in anesthesia and a PhD at the University of Bristol. She received her Maddie's Graduate Certificate in Shelter Medicine from the University of Florida. She was a member of the Association of Shelter Veterinarian's Task Force to Advance Spay-Neuter, is a member of the American Association or Feline Practitioners (AAFP) welfare committee, was a member of the Feline Nursing guidelines committee, and co-chaired the 2018 feline anesthesia guidelines task force.
Dr. Robertson also co-authored the AAFP/American Animal Hospital Association Pain Management Guidelines for cats and dogs in 2015. She is currently serving as the Medical Director for Lap of Love Veterinary Hospice and is a courtesy lecturer at the Maddie's Shelter Medicine Program at UF.

About Dr. Sarah Kirk, DVM
Adjunct Clinical Assistant Professor, Maddie's® Shelter Medicine Program at the University of Florida
After graduating with her DVM from Michigan State University, Dr. Kirk sampled many offerings of this wonderful profession including private practice, behavior, and research, with the majority of her career spent in shelter medicine and surgery. After moving to Florida in 2008, she was fortunate to become involved with the Maddie's® Shelter Medicine Program at UF, participating in Operation Catnip, the Community Cat Management Course, shelter consultations, and disaster response. Through her disaster response, she was introduced to large scale cruelty cases, ultimately becoming Medical Director of the ASPCA's Field Investigation and Response team.
She earned her MS in Veterinary Sciences with a concentration in Shelter Medicine in May 2017 from the University of Florida and joined the Maddie's® Shelter Medicine Program shortly thereafter. In addition to her work as an online instructor, she participates in shelter consultations both on the US mainland and in Puerto Rico. Her special interests include facility design, population management, welfare of shelter animals, and infectious diseases of rescued animals.