For Foster Caregivers and Adopters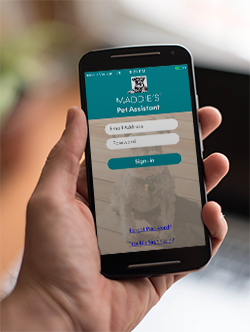 Maddie's® Pet Assistant (MPA) is a free app developed by Maddie's Fund® to provide you with support after you bring a dog or cat home. Whether you are a seasoned foster caregiver, or just adopted your first pet - the app will provide help and maybe even teach you a few new tricks.
For example:
Kitty have a cold? Pup pooped where he shouldn®™t?

Let®™s see what the experts say!

Introducing a new to pet to your current pets?

We®™ve got you!

Need tips for your counter-surfing dog? Or constantly meowing cat?

Advice is on the way!
If you indicate a concern in one of our check-in surveys, you®™ll receive an immediate response in the app and in email, with tips, advice and resources crafted by shelter medicine veterinarians and behaviorists to help you resolve the issue. It's all about support.
You can also receive vaccination reminders, track your pet's weight, post questions to a community forum and more ®" all through the app! So, what are you waiting for?
Download the app through the App Store or Google Play and register for an account today!

For Shelters and Rescue Organizations
Already Registered? Login
Maddie's® Pet Assistant is a unique app for mobile phones and tablets developed by Maddie's Fund® to help animal shelters and rescue organizations provide support to and communicate with caregivers after pets go home. Think of it as another tool in your toolbox to help animals succeed in their journey beyond the shelter. And did we mention there are a plethora of benefits? For answers to your most pressing questions check out our FAQs.
"This is such a fantastic resource on SO many levels! It's going to help adopters, obviously, but what I'm most excited about is it will help our team know the areas in which we need to improve upon! I just can't thank Maddie's Fund enough!"

- Tina Hunter, Humane Society of North Myrtle Beach
It's all about support and communication
The app gives caregivers the opportunity to submit questions, photos and videos and take surveys. Via submitted surveys, your organization can gather valuable information about how the pet is doing in their foster or adoptive home, especially as it relates to potential problems or challenges.
If an adopter or foster caregiver reports a concern in a survey, they receive an immediate email response, crafted by shelter medicine veterinarians and behaviorists, to educate them and help resolve the issue. Your organization's staff and/or volunteers can review all submitted survey responses at any time to offer additional, direct support as needed.
We have instructional videos to show you the ins and outs of Maddie's® Pet Assistant or you can fill out the form below to test the app yourself!
Find out about the technical requirements for Maddie's® Pet Assistant on our FAQs page.
What do you think - ready to do this?
Or would you like to take this app for a test drive first?
We can set you up with an example pet and demonstrate how it all works. Fill out the short form below and we®™ll set you up as a test adopter or test foster caregiver of a pretend pet. You can expect to receive an email within 24 hours letting you know how you can download the app to your mobile phone or tablet, log in and start testing!
Note: This test is for shelter and rescue organizations and is not registration for the app.
Adopters and foster caregivers, if you are interested in using the app, please contact your local animal shelter or rescue organization and let them know about us!
Add mpa@maddiesfund.org and petassistant@maddiesfund.org to your contacts to ensure follow-up emails do not go to your spam folder.