November 13, 2019 by Kate Hurley, DVM, MPVM Co-founder, Million Cat Challenge and Director, Koret Shelter Medicine Program @UC Davis School of Veterinary Medicine
Audience: Executive Leadership, Veterinary Team
Are you interested in launching or growing your RTF program but are experiencing push back from stakeholders? Does your county worry about the optics of having ACOs putting cats back where they came from? Have you ever heard "so my tax dollars are paying for you to return this cat to me and do nothing"? In this webinar, we invite you to partake in a little old-fashioned role reversal where YOU get to be on the other side of the counter.
FIRST: Dr. Kate Hurley will present her best case for moving away from traditional cat management and sheltering approaches, approaches that were actually designed for dogs, in favor of strategies designed to serve the unique and vastly different needs of the feline population. She'll outline how the goals of sheltering programs with respect to homeless cats (i.e. protection of feline welfare, protection of public health and wildlife and mitigation of nuisance and aesthetic issues) are not being met with traditional, untargeted and unrestricted intake of cats into North American shelters.
THEN: Dr. Hurley will climb in the hot seat while you serve up a healthy scoop of You're Not Doing Enough and I Don't Want That Cat Pooping in My Garden. She can't change the law (p.s. often you don't need to), but she can equip you with the facts, stats, and talking points you need to take your organization from "wish we could do that" to "heck yeah we did!".
Join us on Wednesday, November 13 at 3 pm Pacific / 6 pm Eastern for this free 90-minute webcast by registering below.
Please help us understand your most pressing concerns about return-to-field so that Dr. Hurley can address them during the webcast. Thank you ahead of time for taking a short survey here: Million Cat Challenge Return to Field Survey.
This webcast has been pre-approved for 1 hour of Certified Animal Welfare Administrator continuing education credits by The Association for Animal Welfare Advancement.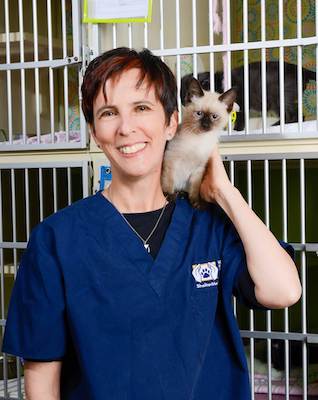 About Kate Hurley
Dr. Hurley began her career as an animal control officer in 1989. After graduation from the UC Davis School of Veterinary Medicine in 1999, she worked as a shelter veterinarian in California and Wisconsin. In 2001, she returned to UC Davis to become the first in the world to undertake a residency in Shelter Medicine. Following completion of the residency, Hurley became the Director of the UC Davis Koret Shelter Medicine Program.
Two of her proudest achievements are co-authoring the Association of Shelter Veterinarians' Guidelines for Standards of Care in Animal Shelters and co-editing the textbook Infectious Disease Management in Animal Shelters. Learn more about Dr. Hurley.