November 2014 by Sherri Franklin, Laurie Routhier, Marie Macaspac
Audience: Executive Leadership, Foster Caregivers, Public, Shelter/Rescue Staff & Volunteers, Veterinary Team
What if your shelter or rescue group had a long list of people wanting to foster pets for you? What if you had a great system in place to recruit, train, reward and manage those foster homes? What if you had a whole army of people to help get those pets ready for adoption?
If you think those things are impossible, or just aren't sure how to make them happen, be sure to join us for our free webcast, Secrets to Pet Foster Program Success. Learn how to make your foster program successful with the wizards of fostering from the San Francisco-based Muttville Senior Dog Rescue, Sherri Franklin, Founder and Executive Director, Laurie Routhier, Director of Operations, and Marie Macaspac, Director of Marketing and Communication.
Attendees will learn:
Muttville's secrets for finding amazing foster homes
How to set fosters up for success
What you can learn from your foster families
Resources to help them find homes for the dogs they're fostering
What to do if your foster home isn't doing a good job
The truth about "foster failures"
How to make sure your foster families are happy and feel part of your work
Secrets to Pet Foster Program Success is part of an ongoing series of educational programs from Maddie's Fund®, a program of Maddie's Fund®, the nation's leading funder of shelter medicine education. Maddie's Institute brings cutting edge shelter medicine information from universities and animal welfare leaders to shelter veterinarians, managers and staff as well as private practice veterinarians, rescue groups and community members to increase the lifesaving of homeless dogs and cats community-wide.
This course has been pre-approved for Certified Animal Welfare Administrator continuing education credits.

Sherri Franklin, Muttville Founder and Executive Director
Sherri Franklin began her animal advocacy work in 1994 as volunteer at the San Francisco SPCA. She later began working at San Francisco Animal Care & Control (SFACC), and served six years as Vice-Chair of the Commission of Animal Control and Welfare for the city of San Francisco.
Sherri finally made her goal to start a senior dog rescue a reality. In 2007, Muttville was born and the organization recently celebrated rescuing over 2,700 dogs.
Sherri continues to serve the community and address many animal-related issues, advising elected officials on animal-related legislation. She also continues to foster and hospice senior and special needs dogs for many organizations in the Bay Area.

Laurie Routhier, Muttville Director of Operations
Laurie Routhier is responsible for the development and implementation of best practices and processes to support Muttville's strategic goals, and ensure the effective and efficient running of programs by guiding shelter policy, operations and strategy.
Passionate about animal welfare, Laurie has worked in the field for 15 years in a variety of areas including adoptions, humane education, volunteer programs and community building, and legislative development. Laurie is committed to finding creative ways to promote adoptions, increase the number of lives saved, and find the most appropriate home to support lasting matches and happily-ever-afters for both Muttville's dogs and its clients.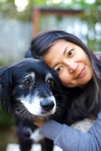 Marie Macaspac, Muttville Director of Marketing and Communications
Marie Macaspac began serving the animal rescue community in San Francisco in 2006. As both a marketing professional and a foster volunteer, she has been instrumental in bringing widespread attention to the senior canine cause.
Marie is the creative force behind Muttville's website, brand, merchandise, print collateral, campaigns and promotions, and social media strategy. She is also the founder of AnimalRescueMarketing.com, an educational website where she shares her tactics and strategies to help animal rescue groups, shelters, and organizations across the world through marketing. She also offers her services as a consultant in branding, marketing and social media for non-profit organizations, specializing in animal rescue causes.