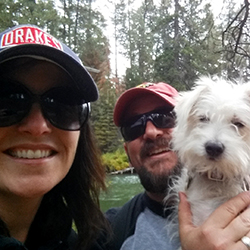 Esther has come a long way since we first met her. She was admitted to the Oakland Animal Services shelter with facial lacerations, a cracked tooth, and a broken leg. Since her leg had already set improperly and she wasn't able to walk on it, it was amputated. Two days after surgery, she met Craig. After just a few nights of fostering, Esther became a permanent part of their family.

Along with becoming a permanent member of Craig's family, Esther also became a permanent member of our office. She proudly took on the role of office dog. She gets around better on three legs than she ever did with four. We know the office wouldn't be the same without her!
Check out a day in the life of an office dog.