January 2013
Audience: Executive Leadership, Foster Caregivers, Public, Shelter/Rescue Staff & Volunteers, Veterinary Team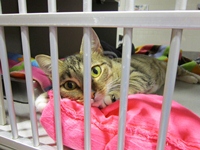 What role do nutritional problems, diet changes, food ingredients and other diet-related factors play in diarrhea in shelter cats and dogs?

Maddie's InstituteSM spoke to Dr. Justin Shmalberg, a veterinarian board-certified in small animal clinical nutrition and a Clinical Assistant Professor of Integrative Medicine at the College of Veterinary Medicine at the University of Florida, about the prevalence of nutritional-caused diarrhea, and what shelters can do about it.

"Dietary change is likely only a contributing factor to diarrheal disease," he said. However, that doesn't mean shelters can't use dietary and nutritional interventions to prevent and treat diarrhea in the pets in their care.
"A standardized nutritional plan would certainly allow shelters to better monitor the pets which don't respond to treatment with conventional medications designed to eliminate common intestinal parasites," Dr. Shmalberg said. "A general feeding guideline based on weight could likely be established quite easily, and provide more regularity to calorie and nutrient intake."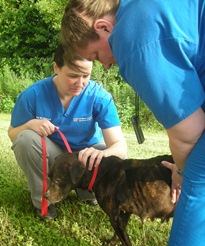 Avoiding over-feeding is another important step in reducing digestive problems in shelter pets. "Malnourished or underfed dogs may have a reduction in the height of their villi, the absorptive surfaces on the inside of the intestine," he said. "This may contribute to diarrhea, as could relative over-feeding.

>"Clearly a number of stray animals are emaciated when they enter into the shelter environment," he continued. "The digestive system and the hormones of the body may be unprepared for a sudden dramatic increase in food intake. In these animals, it may be best to slowly reintroduce food even though the initial impulse may be to feed them as much as possible."

Pets who have been starved prior to entering the shelter or rescue may have adapted to using their own fat and protein stores for calories, he cautioned, so feeding pets high in those two nutrients, rather than carbohydrates, might be easier for those pets to handle.
Whether pets are emaciated or not, they may suffer from nutritional deficiencies. For example, Dr. Shmalberg said, "For stray dogs, deficiencies in vitamins, essential fatty acids, calcium and a few other nutrients would be expected. Such deficiencies could have effects on digestion, skin and coat health and immunity."
Unfortunately, there aren't any easy answers when it comes to diagnosing nutritional deficiencies in shelter animals. "Most diagnostics for nutritional deficiencies are expensive, and oftentimes supplementation with a nutrient-dense diet will be a more realistic goal for animal shelters," he said.
Other steps he says shelters and rescue groups can take to address the contribution of diet and nutrition to shelter dog and cat diarrhea include:
Implementing a standardized nutritional plan for pets who don't respond to treatment with conventional medications designed to eliminate common intestinal parasites.
Establishing a general feeding guideline based on weight, allowing shelter staff to identify those who are in need of further care.
Giving probiotics, which have been found in limited trials to be effective in decreasing the incidence of diarrhea in cats.
Considering the use of vitamin B12 injections for malnourished cats.
What about after adoption, or upon going into foster care? "Shelters should likely provide adopters with information about the food they were feeding at their facility, and perhaps even a list of foods with similar composition," he said. "If possible, donated food could be provided in small amounts to the new owners to help prevent diarrhea associated with a sudden food change.
"If diarrhea is severe, they can always fast the pet for 1 - 2 meals which may permit diarrhea, especially colitis, to resolve on its own if it is due to environmental change."