Project Dates: August 2008 - December 2021.
Total Funding $5,969,774.91
Pro bono Advertising Agency: Wunderman Thompson
Beginning in 2008 Maddie's Fund® along with the Humane Society of the United States has partnered with the Ad Council to create and produce public service advertising campaigns focused on helping to get shelter pets adopted. The Shelter Pet Project marks the first Ad Council campaign to focus on pets. From 2009 through 2021, this campaign has generated more than $541M worth of donated advertising time and space. The Shelter Pet Project utilizes multimedia public service advertisements, including television, radio, outdoor, print, digital and social media content to promote pet adoption through positive communication, spotlighting the incredible and unique bond between adopted pet and family.
Evolution of the Campaign
The campaign's original focus was to find homes for the millions healthy and treatable dogs and cats available for adoption each year. The pandemic demonstrated that shelter pet adoption had become an established and recognized practice. In December 2020, the partners determined that an evolution of this campaign was needed to focus on keeping pets and people together. Market research is underway along with a new messaging direction.
Recent Campaigns
The most recent campaign, Adopt Pure Love, features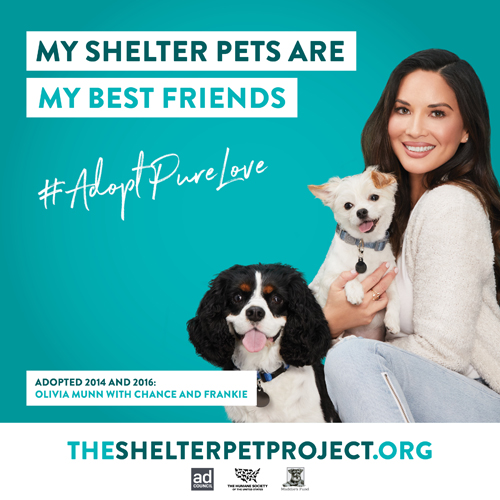 actresses Olivia Munn and Rachel Bloom along with the NFL's football star, Logan Ryan. To date the campaign has attracted high profile media such as the Ellen Show, People Magazine, Daily Mail, Extra TV and The Hollywood Reporter along with Hallmark, Home & Garden, Food Network, Lifetime TV, A&E, ABC and CBS to name a few.
Awards
J. Walter Thompson's pro bono work on the Ad Council's Shelter Pet Project garnered a Silver Lion in the Cyber: Influence/Talent category at the Cannes Film Festival along with the March ADness award two years in a row.
To view the latest public service announcements, visit The Shelter Pet Project.