Project Dates: August 2008 - December 2018
Total Funding: $4,731,031.69
Pro bono Advertising Agency: J. Walter Thompson
Maddie's Fund® has partnered with the Ad Council, The Humane Society of the United States, and the entire animal welfare community for The Shelter Pet Project, a public service advertising campaign that encourages animal lovers to go to an animal shelter or rescue organization to adopt a pet. The Shelter Pet Project's multimedia public service advertisements, inclusive of television, radio, outdoor, print, digital and social media content, promote adoption through positive communication, spotlighting the incredible and unique bond between adopted pet and owner and drive potential pet owners to TheShelterPetProject.org, where they can search for adoptable pets near them. The Shelter Pet Project marks the first Ad Council campaign to focus on pets. Since 2009 through December 2018, this campaign has generated more than $387.4 million worth of donated advertising time and space.
In the past year, there have been more than 170.5K searches for adoptable pets on the newly updated campaign website, the search function being powered by the Adopt-A-Pet database.
The current campaign Adopt Pure Love features actresses Olivia Munn and Rachel Bloom along with the NFL's Tennesee Titan, Logan Ryan. To date the campaign has attracted high profile media such as the Ellen Show, People Magazine, Daily Mail, Extra TV and The Hollywood Reporter along with Hallmark, Home & Garden, Food Network, Lifetime TV, A&E, ABC and CBS to name a few.
Current media assets include Television PSAs, Radio spots, Out of Home billboards and print ads.
Visit The Shelter Pet Project website to search for a pet and see current creative advertisements.
In 2019, the movie "A Dog's Way Home" will open in theaters.
In "A Dog's Way Home", Bryce Dallas Howard voices Bella, a dog determined to find her way back home after she gets lost from her owner. The movie opens in theaters January 11th, 2019
In 2018, The Shelter Pet launched an online PSA with the cast of CATS on Broadway.
"Start a Story. Adopt." Campaign Wins at Cannes!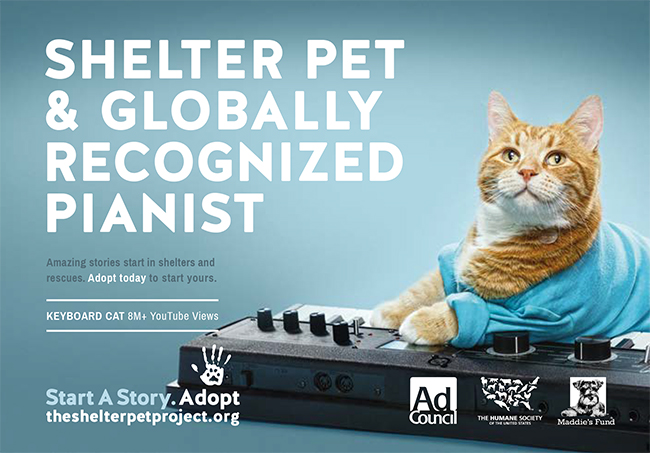 J. Walter Thompson's work on the Ad Council's Shelter Pet Adoption garnered a Silver Lion in the Cyber: Influence/Talent category.
J. Walter Thompson's pro bono work on the Ad Council's Shelter Pet Adoption garnered a Silver Lion in the Cyber: Influence/Talent category. The Shelter Pet Project PSAs feature some of the internet's most loved animals, including Toast Meets World, Keyboard Cat and Hamilton Pug, all of whom were adopted from shelters.
Recent social media campaign:
Social Paws
In this social-media based Shelter Pet Project campaign from J. Walter Thompson Worldwide, shelter pets are taking over the Social Paws lab and making videos and posts to get their friends adopted! They're creating pro-adoption messages around fun holidays like Donut Day, Hug Your Boss Day, Space Day, Odometer Day, Lazy Day and more.
The campaign continues to build awareness around the issue through an extensive social media campaign, which will include original and user-generated content encouraging people to share their shelter pet adoption stories. Through the Ad Council's first partnership with CrowdTap, the campaign will also leverage the marketing platform's extensive network of social media influencers to spread the word about shelter pet adoption and the new PSA campaign.