July 2017 by Brett Frazier
Audience: Executive Leadership, Foster Caregivers, Shelter/Rescue Staff & Volunteers
Saving the lives of the youngest, most fragile kittens can be daunting, but chances of survival and then placement in a new home becomes easier by first placing them in a foster home for loving care and nurturing, and then when old enough, moving them to veterinary clinics where they are on display to potential adopters. The mamas and kittens enjoy added exposure to the adopting public while entertaining people in the doctor's waiting room - and they are adopted right from the clinics!
Watch how the Humane Society of Southern Wisconsin implemented this innovative lifesaving program, and how any shelter can do it!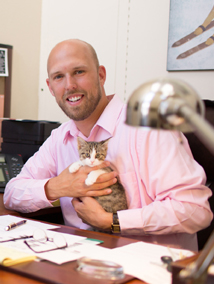 About Brett Frazier

Executive Director of the Humane Society of Southern Wisconsin since June 2013, Brett Frazier grew up in Milton, WI, and attended the University of Wisconsin-Whitewater. Brett's prior civic and community career includes stints as the Mayor of the City of Milton and as Executive Director of the Oregon Area Chamber of Commerce. He, his wife Jody, and their three children-along with three dogs and three cat-live in Milton, WI.