April 2020 by Tawny Hammond, National Director for Leadership Advancement, Best Friends Animal Society and Denise Deisler, Director, Jacksonville Humane Society
Audience: Executive Leadership, Shelter/Rescue Staff & Volunteers, Veterinary Team
Are you trying to grow as a leader? Thinking about succession plans and how to grow leadership within your organization? Tawny Hammond and Denise Deisler present a foundation for understanding how to cultivate the leadership abilities that will enable your or your staff to reach their highest potential.
This presentation was recorded by Maddie's Fund® at the 2020 American Pets Alive! Conference.

About Denise Deisler
Denise Deisler joined the Jacksonville Humane Society in September 2011. She immediately built bridges and developed productive partnerships, increased revenue while reducing expenses, recruited an energetic, talented and enthusiastic board and implemented new initiatives that contributed significantly to the community's no kill goal. New programs like a kitten nursery, community resource center for retention and intervention and a renewed focus on transfers from the city's shelter resulted in an additional 1,000 lives saved in her first year alone. Denise led the campaign to replace the JHS shelter that burned to the ground in 2007 and raised $15 million. She oversaw the design and construction of the new 44,000 square foot facility.
Prior to coming to Jacksonville, she was the executive director of the Humane Society of Manatee County and the chief operating officer of the Richmond SPCA.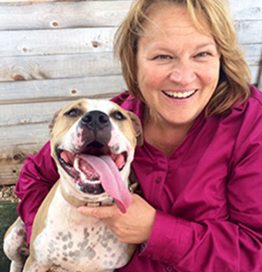 About Tawny Hammond
Tawny has more than 30 years of experience in the public service arena, creating and implementing programs and services for people and their pets, working effectively with appointed and elected officials, creating and leading teams focused on professional excellence and lifesaving best practices. Tawny served for more than 25 years in municipal government in Fairfax County, Virginia where she brought the Fairfax County Animal Shelter to a 90 percent live release rate in less than two years by removing breed restrictions, growing a robust volunteer program, establishing a cutting-edge foster program for the dogs losing their lives, strengthening community cat programs and establishing the animal shelter as a community center for residents of Fairfax.
Tawny is also the former chief of animal services for the city of Austin, Texas. Under Tawny's leadership, Austin and Travis County, Texas, reached a new milestone in 2017, achieving live outcomes for 98 percent of the more than 17,000 animals who came through the doors.