May 2019 by Kate Hurley, Director, UC Davis Koret Shelter Medicine Program, Million Cat Challenge
Audience: Executive Leadership, Shelter/Rescue Staff & Volunteers, Veterinary Team
For over a century in North America, sheltering programs relied on a similar approach to management of both dogs and cats. However, the outcome was remarkably different for the two species. Dog euthanasia rates declined steadily while feline intake and euthanasia remained high. In recent years, however, cat-specific strategies have been developed that better serve the many goals we have for our shelters: reuniting lost cats with their owners, reducing nuisance issues, preventing suffering and death of the cats themselves, and reducing the risks that free roaming cats pose to wildlife and public health.
These methods were incorporated into the Million Cat Challenge, launched in 2014 as the world's largest feline life-saving campaign. With over 1,000 North American animal shelters surpassing the Challenge's life-saving goal by over 800,000 cats, these methods have now moved from cutting edge to mainstream. From the data and scientific basis to the logistical details, this presentation will provide the "why" and "how" of successful strategies for community cat management. This presentation was made possible by the generosity of the Dave & Cheryl Duffield Foundation and Maddie's Fund®.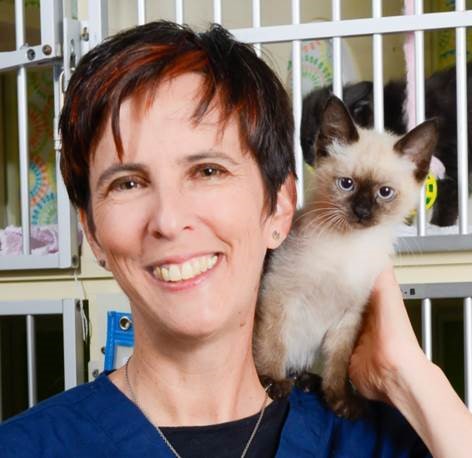 About Dr. Kate Hurley
Kate began her career as an animal control officer in 1989. After graduation from the UC Davis School of Veterinary Medicine in 1999, she worked as a shelter veterinarian in California and Wisconsin. In 2001, she returned to UC Davis to become the first person in the world to undertake a residency in shelter medicine. Following completion of the residency, Kate remained at UC Davis to become the director of the Koret Shelter Medicine Program.
Four of her favorite achievements are co-authoring The Association of Shelter Veterinarians' Guidelines for Standards of Care in Animal Shelters, co-editing the textbook "Infectious Disease Management in Animal Shelters," collaborating in development and dissemination of the life-saving "cat portal", and co-creating the Million Cat Challenge. She loves shelter work because it has the potential to improve the lives of so many animals and the people who work so hard to care for them.