March 2016 by Dr. Jeffrey Stupine
Audience: Executive Leadership, Veterinary Team
Canine parvovirus outbreaks can cost dogs' lives in the community as well as inside the walls of the local animal shelter. Private, ICU-level treatment is out of the financial reach of the very dog owners most likely to have parvo-stricken dogs - those with low incomes and little access to veterinary care. The good news is that a recent study at the Pennsylvania SPCA (PSPCA), funded by Maddie's Fund®, demonstrated that outpatient care for parvo can save almost all affected dogs and a lot of money, too.

When the PSPCA launched a study of outpatient care for parvo-stricken local dogs, they hoped to save around 75 percent of them. Instead, 84 percent of the dogs survived, most only with care provided at home and at the shelter's outpatient clinic.

They worked with community members to show them how to provide fluids as well as oral and injectable medications at home, while providing support and office visits at their outpatient care center.

Please join PSPCA Head Veterinarian - Wellness, Dr. Jeffery Stupine and Maddie's Fund® for a full report on the study results in the free webcast, Outpatient Parvo Treatment for Dogs.

Viewers of this webcast will learn:

The scope and results of the study
How to identify at-risk dogs and reach their owners
Practical tips for scheduling, client counseling, outcome tracking
Understanding risks of infection to other pets in house/neighborhood
Preventing infection in the hospital, the shelter, and the community while treating dogs with parvo
Cleaning protocols
Client communication systems
Treatment protocols, monitoring, and variations of standard treatments
What worked, what didn't
The cost of the program
How the PSCPA veterinary team worked with owners to support the dogs' care at home
What may be the single-largest contributing factor to mortality in parvo cases
And more!
Outpatient Parvo Treatment by Animal Shelters for Dogs in the Community is part of an ongoing series of educational programs from Maddie's Institute, the academic division of Maddie's Fund®, providing the most innovative animal welfare information to shelter staff, veterinarians, rescue groups and community members to increase the lifesaving of homeless dogs and cats community-wide.
This course has been pre-approved for Certified Animal Welfare Administrator continuing education credits.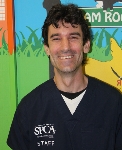 About Jeffrey Stupine, V.M.D.

Dr. Stupine joined the Pennsylvania SPCA in 2011 and was appointed Head Veterinarian, Wellness, in April 2014. He is dedicated to creating a healthy pet community by providing excellent care at a reasonable cost. He oversees the PSPCA's Wellness Clinic, which sees nearly 10,000 patients a year, and the organization's Vaccine Clinic program, which offers low-cost or free vaccines in area neighborhoods.
Dr. Stupine earned his undergraduate degree in Economics from The George Washington University and worked as an Equity Trader before returning to school to pursue his true passion for veterinary medicine. After graduating from the University of Pennsylvania's School of Veterinary Medicine in 2010, he worked as an associate in a private practice.
His family includes two dogs, Flooper and Ella, and a cat named Harry Potter.