Maddie's Fund Purpose
The Maddie's Fund® mission is to revolutionize the status and well-being of companion animals.
Who is Maddie?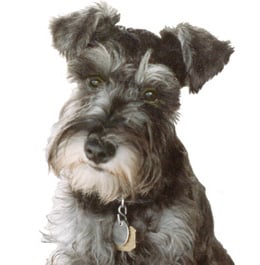 The Duffields named Maddie's Fund after their Miniature Schnauzer, Maddie, who, with her feisty spirit and unconditional love, provided them much joy for ten years, and continues to inspire them today.

Maddie's Fund is the fulfillment of a promise that Dave made one evening while playing with Maddie on the living room rug. Because of the joy Maddie gave to them, the Duffields committed to helping companion animals and their people, so they could experience the same joy the Duffields had with Maddie. The rest, as they say, is history. #ThanksToMaddie!
About Maddie's Fund®
Maddie's Fund is a family foundation established in 1994 by Dave and Cheryl Duffield and is the fulfillment of a promise to an inspirational dog, Maddie. She provided Dave and Cheryl much joy for over ten years and continues to inspire them today.
The Foundation has awarded over $275.7 million in grants toward increased community collaborations and live outcomes, pioneering shelter medicine education and establishing foster care as a standard across the U.S.
Maddie's Fund proudly offers the industry a national voice, important funding opportunities for bold ideas, learning resources and access to collaborate and share innovative solutions. The Foundation invests its resources in a commitment to keeping pets and people together, creating a safety net of care for animals in need and operating within a culture of inclusiveness and humility. #ThanksToMaddie.
Impactful accomplishments
Thanks to Maddie

include:
Awarded more than $275 million dollars in grants to animal well-being organizations.
Partnered with the Ad Council and the Humane Society of the United States to produce a national public-service advertising campaign promoting the adoption of shelter pets. In 2021, the campaign evolved to Pets and People Together messaging to help inspire community members with ways they can help their family, friends and neighbors to keep pets and people together. Be a Helper is the first campaign to launch under this umbrella, Fall 2022, #PetsAndPeopleTogether #BeAHelper.
Provided funding to Companions and Animals for Reform and Equity (CARE), a nonprofit 501(c)3 organization dedicated to addressing organizational and personal biases within animal well-being.
Funded research with Dr. Michael Blackwell, DVM, MPT at the University of Tennessee Program for Pet Healthy Equity for the development and implementation of AlignCare, supporting families through access to veterinary care.
Created Maddie's® Candid Conversations, in-depth discussions about racial equity, inclusion & diversity.
Helped institute weekly national calls for animal well-being professionals to connect and share information during Covid-19 pandemic. These calls evolved into Weekly Community Conversations and are a collaborative space to share exciting new programs and research, discuss uncomfortable topics, connect with peers in the industry, and more, all while sharing a common goal of preserving the human-animal bond.
Sponsored the establishment of the first centralized and standardized national animal well-being database, Shelter Animals Count.
Created topic-related Challenge Grants in partnership with other national organizations to encourage animal shelters and rescue organizations to implement or expand a new program at their organization. Topics include foster care, return to home and welcoming policies.
Co-funded the creation and infrastructure of the Human Animal Support Services Pilot Project, a collaboration of North American animal shelters with a community-centric focus.
Created Maddie's® University, a FREE learning management system for self-paced and instructor-led coursework for the animal well-being field.
Developed and launched the first FREE online community platform, Maddie's® Pet Forum, for collaboration among the animal well-being industry, open 24/7, and provides opportunity for sharing resources, exchange of ideas and connection with one another.
Shifted the conversation within the animal well-being industry to a community-centered approach, helping communities to keep pets with their people and out of shelters.
Established a focus on foster care within animal well-being field, providing funding for pilot projects for short-term foster programs and market research of general public attitudes and awareness of foster care.
Funded the establishment and ongoing efforts of Maddie's® Million Pet Challenge.
Partnered with the Humane Society of the United States to help stop the suffering of breeding dogs and their offspring in puppy mills.
Established a more responsibility- and results-driven view in the animal well-being industry by requiring that grantees commit to business management practices, including data collection, numerical goals, strategic planning and performance measurement.
Focused national attention on the importance of data and delivered the first searchable database that compared shelter data from more than 500 animal welfare organizations.
Sponsored Maddie's® Pet Adoption Days 2010 – 2015, the first of its kind weekend-long collaborative event in which fees were waived for pet adoptions at participating animal shelters. During this period, Maddie's Fund® supported the adoptions of 31,267 homeless dogs and cats. Maddie's® Pet Adoption Days inspired many other fee-waived adoption day events that continue today.
Established the first comprehensive shelter medicine program at the University of California Davis and supported additional shelter medicine programs at the University of Florida, Cornell University, and University of Wisconsin-Madison, among others.
Shifted the national conversation toward live outcomes for homeless dogs and cats and community-wide collaborations.
"The transformational love of a pet should not be a privilege."

- Ann Dunn, Oakland Animal Services